Lake Texoma lies on the Oklahoma/Texas state line, and is a major lake for tourism and outdoorsmen, drawing millions of visitors every year. With over 550 miles of shoreline, there is a lot of natural beauty, wide open water, hidden coves and endless amenities such as marinas, boat ramps and waterfront restaurants. It really does have something for everybody: boating, fishing, camping, hiking, hunting, birdwatching, partying, live music, restaurants, festivals, peace and quiet, natural beauty, swimming – what else could you ask for in a lake?
---
The Striper Capital of the World
Thanks to slightly brackish water from the Red River, striped bass an reproduce in Lake Texoma, making it one of the most spectacular freshwater striped bass fisheries in America – and possibly the world. Every year, anglers hit the lake by the thousands in order to chase monster bass that have a population estimated in the millions across the 93,000 acres of Lake Texoma.
Fishing for striped bass (or "striper") can be exhilarating. In the cooler months, as well as the cool of dawn in the warmer months, striper can be seen schooling and feeding in a "boil" from hundreds of yards away. Dozens of tails slap the surface as a huge school will chase bait upward and pin them to the surface of the water and go crazy. Once you spot fishing boiling, if you can get to them, the excitement is unmatched. The bite is pretty much non-stop until the school drops back below the surface, and then it's up to fishing electronics to tell you where to fish.
If you've never experienced striper fishing on Texoma, then start with one of the many fishing guides the lake has to offer.
---
Hiking and Camping on Lake Texoma
Texoma has some really beautiful areas around the lake, on both sides. The Cross Timbers Texoma Hiking Trail offers 14 miles of waterfront trail, and a true backpacking experience in North Texas with rural campsites along the trail. Eisenhower State Park and Lake Texoma State Park offer lots of scenery and amenities for lake-goers, from in-park marinas, swim beaches and fishing piers, to ATV trails, full hookups and more.
---
Explore Lake Texoma in Detail
For more information, news, events, trip planning and interesting history, you can explore our sister site LakeTexoma.com. Here are some shortcuts: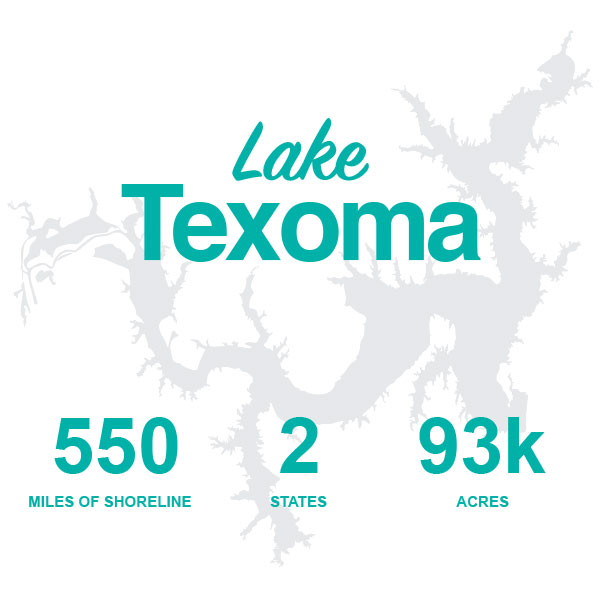 ---
Don't miss out on this beautiful lake!
Explore all that Lake Texoma has to offer with our unique interactive lake map of campgrounds, marinas, restaurants and things to do around the lake.