June is National Camping Month. School's out, the Texas weather is warming hearts and lakefront properties, and it's vacation time for most everyone. Don't get left behind!
Camp Fimfo will open in New Braunfels, Texas on July 1 and offer guests a whole new way to experience camping.
---
How Recreational Camping Got Wheels
In the 19th century, people didn't go camping for fun. For most Americans, it was a way of life or done by necessity. In fact, many pioneers migrated from east to west and a lot of them didn't arrive at their destinations alive due to rough terrain, rough weather, and a rough way of life.
In 1844, a nine-year-old boy emigrated with his parents to the U.S. from England. After the family joined a wagon train heading west, young Thomas Hiram Holding learned lifelong survival skills and fell in love with camping. As an adult, he founded a camping association and wrote one of the first camping guides, which influenced people on both sides of the Atlantic to take up recreational camping. 
The world hasn't been the same.
---
Glamping, Camping, and Amping Up the RV
Today, there are as many different styles of camping as there are campers. For some people, primitive camping is where it's at. All they need is a tent, a sleeping bag, and firepit. For others, nothing less than glamping will do.
The best way to think about glamping is to picture it as glamourized camping. It's for people who want the camping experience but don't want to leave behind their modern luxuries. They fit the yurt or tiny home with electric and wi-fi and even stream Netflix movies on Friday night. 
Last year, the number of people living and vacationing in RVs got a boost. Instead of locking the doors and hunkering down, these campers did their social distancing in the wild. They took to the road, rolled down their windows, and hooked up the campervan.
Whichever is your favorite way to camp, you can do it at Camp Fimfo in the Texas Hill Country.
---
Camp Fimfo: Resort-Style Camping for Every Type of Camper
New Braunfels, Texas offers the best of the Texas Hill Country. Situated between San Marcos and San Antonio, and at the convergence of the Comal and Guadalupe rivers, this modest-sized community is well known for its German Texas heritage. You'll love visiting the Gruene Historical District with its historic architectural beauties. And there are plenty of fun amenities to enjoy too, such as the McKenna Children's Museum and Schlitterbahn Water Park. You'll also enjoy an underground walk through limestone caves at Natural Bridge Caverns.
Of course, you don't have to leave Camp Fimfo to enjoy the outdoors or have fun. There's plenty to do there too.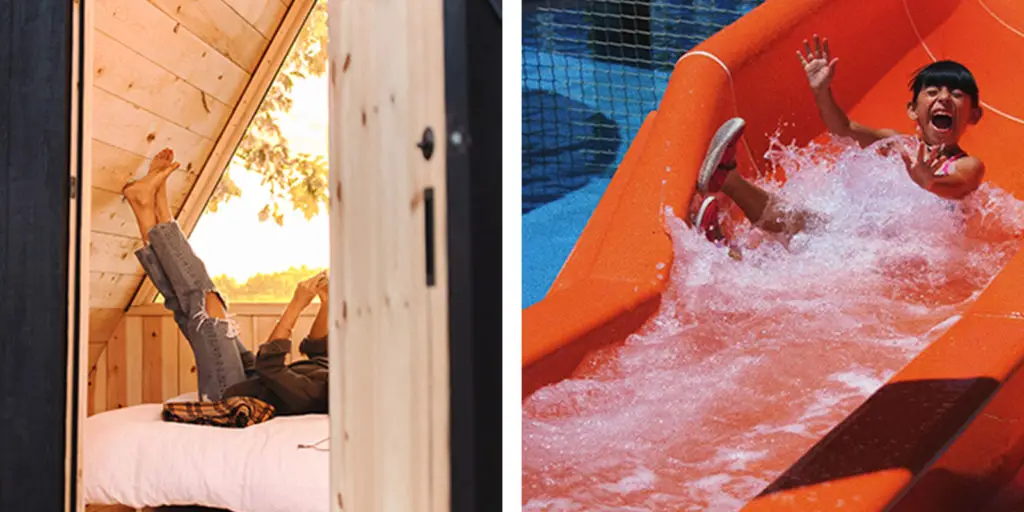 For starters, the camp-resort has its own water park and water slides. Children can enjoy scavenger hunts, miniature golf, and sports courts. There's also a pool, and adults will love the swim-up bar as well as reservable private cabanas. Additional entertainment includes outdoor movies and workshops where you can try on new skills. You'll have full access to Guadalupe River. Various accommodations, including Bivvi A-frame cabins, as well as RV and tent sites will be available in phases throughout Camp Fimfo's first season.
Camp Fimfo is the newest resort-style camping facility from Northgate Resorts, which is known for operating its 19 camp-resorts across the country. 
Let your next camping trip be at Camp Fimfo. Be sure to bring your binoculars. The local mystery creature Squirrely has been known to leave hidden messages around the camp-resort. Think how exciting it will be to catch him in the act.