Spring time is when many freshwater fish spawn, and that's especially true across all of Texas and Oklahoma. This is the time of year when anglers pay close attention to the water temperature, the moon phases and every nuance of the weather. These all factor into when the fish get triggered to spawn.
Right now the white bass and crappie are running up the creeks to spawn across most of Texas, which gives bank fishermen a great chance to catch a lot of fish that often school in deeper water. But today, we're focusing on largemouth bass.
Spawning largemouth bass give serious bass anglers a unique opportunity to catch a trophy female bass by sight fishing, as they move into very shallow water to spawn with males who have built "nests" by clearing out a sandy spot in the vegetation.
It's been a relatively cold winter all across the country, so we have reached out to some of our favorite fishing guides across our network of Lake Websites to get an accurate and up-to-date report on what they've been seeing this week.
Here are reports we have received in the last 24 hours, and we're going to go from north to south here. If you live across the South, take a look at the lake latitude and reported water temps, and you can apply much of the same intel to a large lake with similar specifications.
---
Grand Lake, Oklahoma Spring Spawn Fishing Report
The synopsis on Grand Lake, which is at latitude 36.546, is that the fish are still in deeper water. They are gearing up and feeding, so it's a great time to fish especially if you have a boat.
The water temperature on Grand Lake is finally creeping over 50 degrees with most of the south end of the lake having good water visibility. Bass are starting to move into the backs of creeks and are starting to set up on secondary points.

Once the water temperatures get over 50 degrees is when I like to start throwing spinnerbaits, squarebill crankbaits, jerkbaits, and jigs. If you can find a secondary point, look for something in the point that will hold fish like a random rock pile, a laydown log, or a brush pile.

The fish are wanting to move shallow but are currently holding at 15 foot or shallower. With the longer days and warmer nights, the fish will start getting shallower and shallower. This time of year, fish feed aggressively to put on weight that will be lost during the spawn. This is a great time of year to be on the water and a time to catch your personal best bass.

Chance Davis, DavisGuideService.com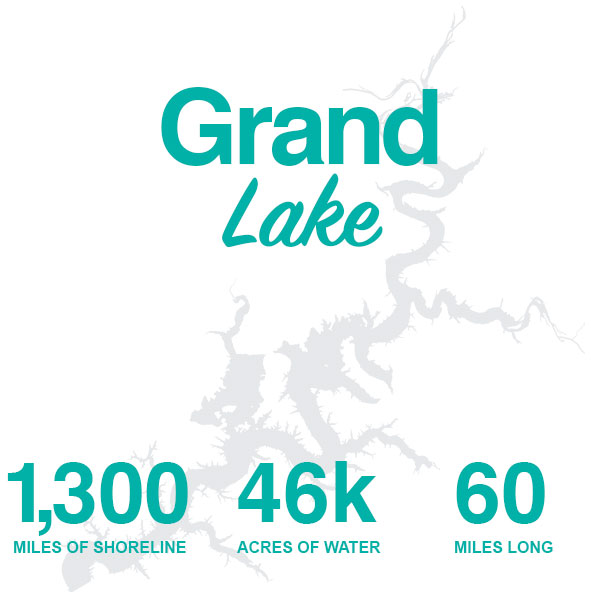 ---
Lake Fork, Texas Spring Spawn Fishing Report
At Lake Fork, the male bass are starting to show up in the shallows, so the spawn is a lot closer than up in Oklahoma. Lake Fork is at latitude 32.886.
Another typical North Texas springtime weather pattern is keeping the fish and fishers guessing. As more warming trends occur, a dependable bite will develop as all species transition to their yearly spawn. Bass are slow but small males are starting to show up shallow in Lake Fork. Some bass are beginning to nest shallow on the smaller surrounding lakes: Hawkins, Holbrook, and Quitman. Be patient as the weather can be your friend or your biggest challenge.

Alex Guthrie, FlyFishFork.com
---
Cedar Creek Lake Spring Spawn Fishing Report
Cedar Creek Lake isn't too far from Dallas, Texas at latitude 32.297, and the water is a little warmer which means the spawn is just around the corner.
Water clarity in the lake is stained, and the color is muddy. Our water temp is heating up slowly, ranging from 53-60 degrees. Once we get some warmer nights and water temperatures start stabilizing in the 60's, bass will be up shallow on any type of shoreline cover in 0-6ft trying to spawn. Expect docks, retaining walls, rocks and shallow cover heading into the backs of coves to start holding a lot of bass this month.

Texas rigged lizards, chatter baits, and jigs are working well right now.

Justin, DallasFishingCharters.com
---
Lake Travis Spring Spawn Fishing Report
Austin's finest Lake Travis is located at latitude 30.463, and is in pre-spawn mode right now.
Water temperatures on Lake Travis have reached the upper 50's, and with the recent full moon and warmer day time temperatures, more and more largemouth bass are moving up building nests. I expect to see increasing numbers of pre-spawn fish pulling up shallower to spawn over the next several weeks. Look for spawning coves that offer protected areas out of the wind and away from boat traffic. Polarized sunglasses and a quiet stealthy approach with your boat are key to locating and sneaking up on spawning fish.

Tyler J. Torwick, TorwicksGuidingService.com
---
Are bass spawning in Texas?
White bass are spawning right now in Texas, while largemouth bass are starting to prepare to spawn.
In the coming weeks of late March and early-to-mid April 2022, largemouth bass fishing will be hot in shallow water all across the state of Texas.
Tight lines, y'all!