One of the great things about fishing is that it is a recreational activity, which is available year-round – as long as you live in the right place. Residents across much of the country even in the Midwest and across the South have the opportunity to fish neighborhood ponds for trout that are stocked in the winter time. And the weather during these months is excellent to arrange a lengthy fishing trip.
Fly fishing is fun, and a specialized technique for catching trout – especially in streams and rivers. But it is a more technical skill, and more in-depth equipment that the angler needs in order to find success, not to mention the local knowledge of what flies work in what areas during different times of the year. For the purpose of this article, we aren't addressing fly fishing at all. Everything we're recommending uses conventional rod and reel setups, along with basic tackle. Our hope is that we inspire you to try a new way of fishing for trout.
One of the most popular types of fish that is being stocked in the ponds in question tends to be rainbow trout. While you might be familiar with the best ways to catch stocked trout in a pond, the situation is a little bit different if it has been freshly stocked. You need to make sure to use the correct gear, accessories, and bait to achieve the best results.
For starters, let's talk about what is so special about stocked trout. Typically, it has been raised in a smaller basin for at least 1-2 months, so when they reach the pond, they usually weigh between half a pound and a pound. Of course, you will also encounter smaller/bigger ones, so it is good to keep this in mind. But in most cases, you'd be dealing with small-mouthed fish that are between 8 and 12 inches. As you can probably guess, this already changes the game a bit – it makes it possible to use smaller, lighter gear. 
---
Fishing with Bait off the Bottom
The first method you can use to catch stocked trout in a pond is fishing off the bottom. One of the best rigs to use in this scenario would be the so-called 'Carolina rig' in a combination with floating bait. The way to set up the rig, is that you need a small egg weight that is connected above a swivel. Beneath it, you can leave about 8-12 inches of leader line. On the end of it, of course, you will have a small hook. We recommend a small treble hook.
Floating bait options are necessary for fishing off the bottom. Trout will cruise a pond just off the bottom in many cases, and if you're presenting bait that is floating about a foot above the sinker, that is your best bet. In the case of stocked trout, we advise you to go with a selection of colors and scents. Some great options include the Berkley Powerbait Cheese or Zekes Sierra Gold Cheese. The latter comes in a variety of colors, making it an ideal choice when you are trying to catch stocked trout in a pond. 
To sum it up, fishing with bait off the bottom usually warrants the use of floating bait and, in this specific case, the cheesy variants might be the way to go – stocked trout loves this. 
---
Fishing with Bait under a Bobber
It is important to mention that if you are fishing off the top, then you will most likely be fishing with bait under a bobber. So, the things we explain here are also applicable in the above scenario. But let's get to the point – fishing with bait under a bobber is one of the most popular methods to catch stocked trout in a pond. Even though it might be a slower, less active method of fishing, it can be incredibly efficient if you get the bait and depth right. If you are looking to relax and get results, then this might be one of the best options to catch stocked trout in a pond.
Since we already explained the method of fishing off the bottom, it is start to mention fishing off the top with a bobber. The setup on your line will be very simple in this scenario – small weighted bobber, small split shot, and a small treble hook. Don't forget that we are dealing with smallish fish, so there is no need to go for large accessories. 
Off the top fishing also warrants the use of more classical bait choices. In this scenario, we advise you to go with earthworms, night crawlers, or even the smaller mealworms. And you also have artificial bait options – the Berkley Powerbait Crappie Nibbles are an excellent option. Chartreuse color is the go-to favorite for Crappie Nibbles. Berkley Gulp Earthworms are another useful artificial bait.
---
Fishing for Trout with Lures
Now, if your goal is excitement and activity instead of patience, then you might want to ditch the bobber. Instead, try fishing for trout with lures. Keep in mind that this will be much more of a challenge, but it will also be more exciting. You will constantly have to cast and move, covering more surface area and giving lots of action to keep your lure an attractive target for stocked trout. 
There are plenty of lures to work with. The number #1 choice are undoubtedly Kastmaster brand slabs. This is the timeless lure. We advise you to go with a gold color, and pick one of the smallest sizes, although silver can work, as well as some of the larger lure sizes (bigger lures catch bigger fish). It's generally wise to start with a smaller lure and then switch up size and color from there. The Kastmaster is one of the most popular types of lure in many scenarios, and it is certainly one of the best options for stocked trout. The lure is off-balanced, which means that any slight movement will make it wobbly, attracting the attention of fish. Last but not least, because of their weight, Kastmasters are ideal for casting at far distances, hence the name.
Alternatively, you can go with rooster tails, small spoons and spinners. They are also great for catching stocked trout in a pond – we advise you to go with a flashy color, and a trailing tail. Mix up the color, size and style if you are not getting any bites after a while.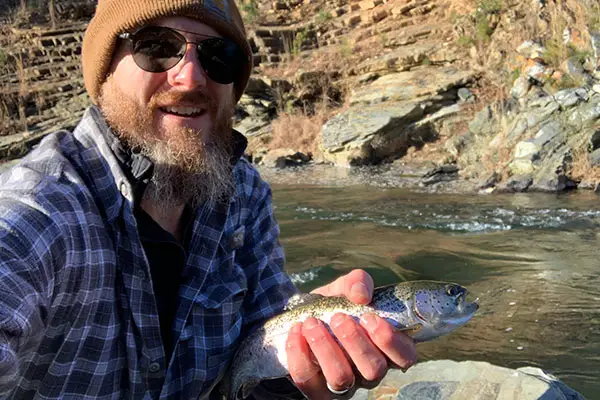 ---
Best Bait for Stocked Trout
As we already made it clear, there are several ways to catch stocked trout in a pond. It is up to you to experiment and decide, which works the best for you in terms of efficiency and convenience:
Fishing with bait off the bottom with a bobbler. Use soft/dough fishing bait and focus on trying out different colors. The best scents are undeniably cheese and garlic – but you could have success with others as well.
If you are fishing with a bobbler off the top, then the classic worm bait will do the trick just fine. Alternatively, you can go with crappie nibbles.
---
Freshly Stocked Trout not Biting?
Unfortunately, freshly stocked trout not biting could be caused by a wide range of factors. To decrease the odds of this happening, we advise you to arrive extra prepared at your destination. This means that you should have the appropriate gear and accessories to try out all the fishing techniques listed above. Of course, trying out different types of bait is the thing that you should do before switching from top to bottom or vice versa. 
There are two scenarios I've found when trout are first stocked in a pond: either they go immediately into a feeding frenzy and you can catch a limit in half an hour, or they shut down until they get used to their new environment. If that's the case, then come back the next day and try again.
Another piece of advice when trying to catch stocked trout in a pond is to arrive early and leave late. Why? Because trout tend to be most active during dusk and dawn. Cloudy days are great as well. They like feeding when the sky is light enough to see, but sunlight is not directly on the water.