Fans of fishing, camping, and other outdoor activities have probably already gathered a neat collection of knives to aid them in various tasks. However, have you done enough research to get the best bang for your buck when it comes to picking a knife for a specific purpose? Many people tend to go with the one-blade-fits-all approach, but this might not always be the best solution – for example, a serrated edge knife will not help you at all when it comes to fishing. It can, however, be very handy in different situations – e.g., setting up a camp or hanging a hammock.
If you want to make your life easier while outdoors, then we strongly advise you to research the best knife types to use for various tasks. We are here to give you a jump start with our recommendations for the best pocket knife for fishing.
---
Why Pack A Pocket Knife For Fishing?
But why would you need a pocket knife for you fishing activities? Well, the answer is very simple – pocket knives are versatile, easy to work with, and they come in a wide variety of materials, sizes, and builds. You do not really need a fancy knife, a multitool, or another type of blade that brings unnecessary complexity and tools that you will not need at all.
Your ideal fishing knife should allow you to work with your line, cut tag ends and retie lures. A pocket knife is an ideal choice for fishing activities because it is small, reliable, and will not get in the way. Furthermore, we will take a look at the different types of mechanisms these blades use and tell you which one you should pick to get the best pocket knife for fishing.  
---
One-Handed Opening with a Linerlock Knife
You are probably aware that pocket knives come with all kinds of locks – some of them can be operated with just one hand, while others may require the use of both hands. For example, finger flipper knives may feel great because of the spring-loaded opening action, but they are not as good for fishing – the extra mechanical parts on the inside make it more likely that the blade will end up malfunctioning. The probability of putting your knife through hard work is even higher when you use it for fishing, since you will end up getting water, sand, and grime everywhere. In this case, it's better to stick with a simple machine.
The best pocket knife for fishing should have a linerlock. The linerlock can be operated with just one hand. The mechanism it uses is very, very simple – a small spring-loaded plate, which locks the blade into place when it is pulled out. To put it back in, you can just one of your fingers to push the plate in, and detract the blade with your other finger. Why is this simple feature so good? In short, the linerlock knife is easy to operate with one hand. It is safe, quick, and very reliable. There is barely anything that can break or malfunction, so a linerlock pocket knife can last you for many years with minor maintenance.
---
Blade Profiles: Plain Edge Drop Point
After you have a linerlock pocket knife you like, it is time to take a look at what kind of blade profile it uses. The most popular profiles are tanto, spear, clip, and drop point. When it comes to selecting the best pocket knife for fishing, we would advise you to go with a drop point type of blade.
There are several reasons for this recommendation, but the primary one is the convenience it offers. The characteristics of the drop point are simple – a curved top side and a curved bottom side of the blade. You may already be aware that drop point knives are typically preferred by hunters, so it is not a surprise that fishermen are also a big fan of theirs.
Another characteristic of the blade is the type of edge it uses. We recommend going with a plain edge – avoid serrated edges since you do not really need them for fishing. They are unlikely to come in use, and they may even end up making your knife a bit more inconvenient to use.
---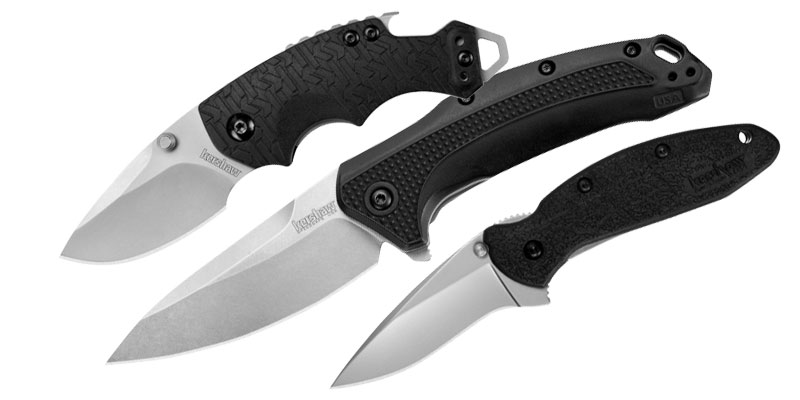 My Recommendations for a Fishing Pocket Knife
Starting your research from scratch may be a bit challenging, especially when there are so many makers and models to choose from. I have come up with a short list of options that might fit your needs just great – they are certainly among the contestants for the best pocket knife for fishing. I personally use each of these recommendations.
All of the blades are manufactured by Kershaw, and I have sorted them from least to most expensive.
Kershaw Shuffle – Both the Shuffle One and the Shuffle Two are excellent choices for fishing. It comes with a 2.4″ blade made of stainless steel. You can pick from a wide range of blade/handle colors. It also comes with a convenient deep pocket clip, which allows the knife to go deeper in your pocket/waistband, therefore making it less likely that it will come in the way. If you happen to go with the Shuffle Two, make sure to get the drop point variant since there is also a tanto blade available. The price of the Kershaw Shuffle is around $20.
Kershaw Scallion – This is a bit more expensive model, typically in the range of $50-$60. It comes with a better quality handle/blade, as well as a more convenient manual flipper. If you insist on spring action, I'd go with a Scallion for a smaller size.
Kershaw Link – This is the most premium option on my list of more affordable fishing knives. The blade is built from CPV-20CV steel, which offers superior resistance to wear and corrosion compared to the other models. It uses Kershaw's patented SpeedSafe technology for faster opening and closing actions. It is slightly pricier than the Kershaw Scallion, sitting at around $70.