It's summer time, which means that in between trips to the lake it's time to start plotting your hunting season. There are many ways to hunt in Texas, whether private land or public land, free to paid leases or guided hunts.
Texas Drawn Hunts opened up recently, and they're a great way to access valuable hunting experiences for a few dollars per drawing chance. Having participated in this program for years, I thought I might share some pointers on how to use the system, and avoid some of the pitfalls I've found.
First off, I will tell you that this entire exercise is best done on a computer, rather than a phone or tablet, especially if you're going to be applying for more than one drawn hunt. It's worth sitting down and doing some serious planning, especially the first time you do it. In future years, you can just re-apply to the same hunts you did the first time around, which is a great way to gain seniority in the drawing too.
---
What Are Texas Drawn Hunts?
Texas Drawn Hunts are lotteries for the opportunity to hunt managed lands, that are otherwise closed off to hunters. You can hunt just about every species that is hunt-able in Texas, and you can hunt every region and type of terrain that Texas has to offer. From ducks in the coastal wetlands to hill country whitetail hunts, turkey, alligator, dove and even proghorn hunts are all available through Drawn Hunts.
They are weighted drawings, which means that the more times you apply for the same category year after year, the higher chances you have of getting picked. It took me 5 years to finally win a drawn hunt, so I can tell you it's definitely possible to win one!
---
How Do Texas Drawn Hunts Work?
There is a wide variety of hunting options, all with their own restrictions, drawing times, hunting times and cost. Some are free, some are $10 or more. Most are $3 per chance. Each person can apply once per hunt each year. If you happen to win, sometimes there is an additional fee for the actual permit.
Here is where you start your Drawn Hunts journey: https://tpwd.texas.gov/huntwild/hunt/public/public_hunt_drawing/
Search By Species & Means of Take
Most hunters are going to start here. Hunting trips start with picking the creature you'd like to pursue, the means of take that you're comfortable with or proficient in, and then you narrow down your available areas.
Here is where you browse by category.
Search By Area
You can also search hunts by area. There is a new map is really handy, because you used to have to look up each area just to find out what part of Texas it is in. A lot of the properties are Wildlife Management Areas that aren't self-descriptive or may be hard to find otherwise, and you might be driving 15 hours to go hunt there if you didn't check ahead of time.
Even if you don't start at the map, you should keep this map handy, because once you pick your species, you will have a list of properties to choose from.
Here is where you search by area.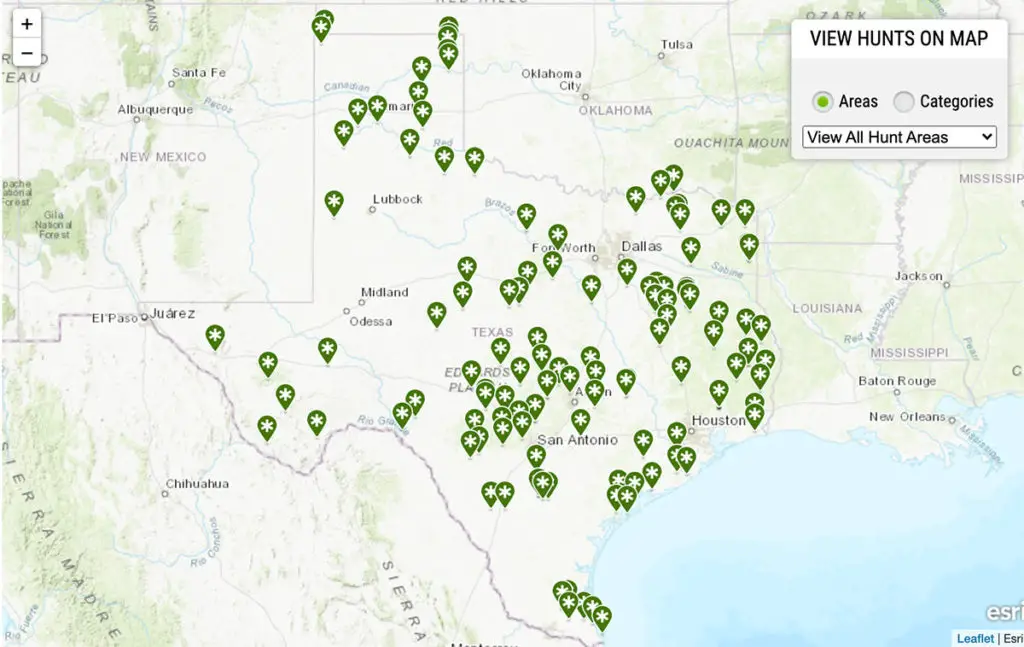 Types of Properties
There is a wide variety of properties available to hunt through drawn hunts in Texas. National forest, state parks and forests, wildlife management areas, even private leased land and guided hunts can be applied for through the platform.
The style of the terrain, the style of the hunt, access, rules, and every detail of a possible hunt vary wildly from one property to the next. Make sure that you read the details of the hunt you're interested in, because you may need an ATV to even access the assigned area of your hunt, or there may be other mobility restrictions you need to know before applying.
---
How To Apply For A Drawing
Once you've determined the category you'd like to apply for (species and means of take), the next step is to pick a property. Here's where things get pretty nerdy.
TPWD publishes last year's statistics on a property if there was a drawing last year. So you will know how many permits are available, and you will often know how many applications there were, along with the success rate for the hunters that won the drawing. So if you're looking for the best bang for your buck (literally) like me, you can make a spreadsheet to figure out your best odds on a hunt.
You should think about the style of hunting that you like to participate in, because some properties are "assigned blind", whereas others are more wide open to scout and hunt areas you find yourself.
You should also take into consideration your own equipment and ability at this step, because some hunts have camping available on site, and some require off-road vehicles or long hikes for access. So make sure you are equipped to stay in the area overnight, or can find a place to stay that's close enough to get to your hunting area well before first light.
When I have my list of categories and properties I'd like to go for, then I apply for them all at once. Pick a category, property, and "Add To Cart", then go on to the next one. You can apply for as many hunts as you want, as long as you haven't missed the drawing deadline.
---
What Happens If You Win A Texas Drawn Hunt?
I have some words of caution here, because I have won and lost a hunt in the same week.
If you happen to win a drawing, you will get an email notice that you have won. It will have instructions to call in and claim your permit, which you have just a few business days after the drawing to do before it's re-drawn and given to somebody else.
What happened to me was that it went to my "junk" folder in my email, and I didn't see it until I was cleaning it out about 3 weeks later. Turns out that the notification email doesn't come from a TPWD.gov email, but rather a third party drawing company, and my permit was re-drawn before I even realized what happened. They do not call the winners – you have to see the email.
So make sure you set your calendar to check a couple days after each drawing date that you applied for, and don't miss that email! When in doubt, you can log into your "account" page and see your status on all hunts any time.
Good luck to all the hunters this season!
Update: I won two hunts this year! Keep at it, folks!