What people consider an ideal year-round living situation can depend on climate, cost of living, condition of your house, flood insurance requirements, night or party life, physiography of the lake, convenience of shopping and services, terrain, wildlife, etc. Do you want to live in a more controlled HOA or an unchartered community without city services? Local zoning varies broadly on many lakes. 
What Are the Best Lakes to Live on Year-Round?
Assuming lake homebuyers are only interested in living on a lake, without all the considerations mentioned above, except they want to use the lake and live the lake life culture. In this perspective, the lake and its physiography is the lakefront home buyer's top consideration. Even lakes with temperate climates year-round have seasons of tourism, and every lake has its drawbacks as far as wildlife goes. 
When pondering lake life culture and the lake a homebuyer wants to live on, there are some important considerations when it comes to the lake's amenities, climate, physiography, and seasons. Physiography includes beaches, lake bed material, species of fish and marine life, climatic seasons, flat, hilly, or mountainous terrain, and vegetation.  
From this perspective, we will categorize "the best lakes to live on year-round in the U.S." into year-round temperate climates or climates with four seasons, convenience of shopping and services, fishing, golf, and housing costs. Zoning is an extremely important consideration because many lakes have areas partly in cities, subdivision developments with HOAs, or no zoning laws where residents can junk up yards, do not have to mow, etc. 
---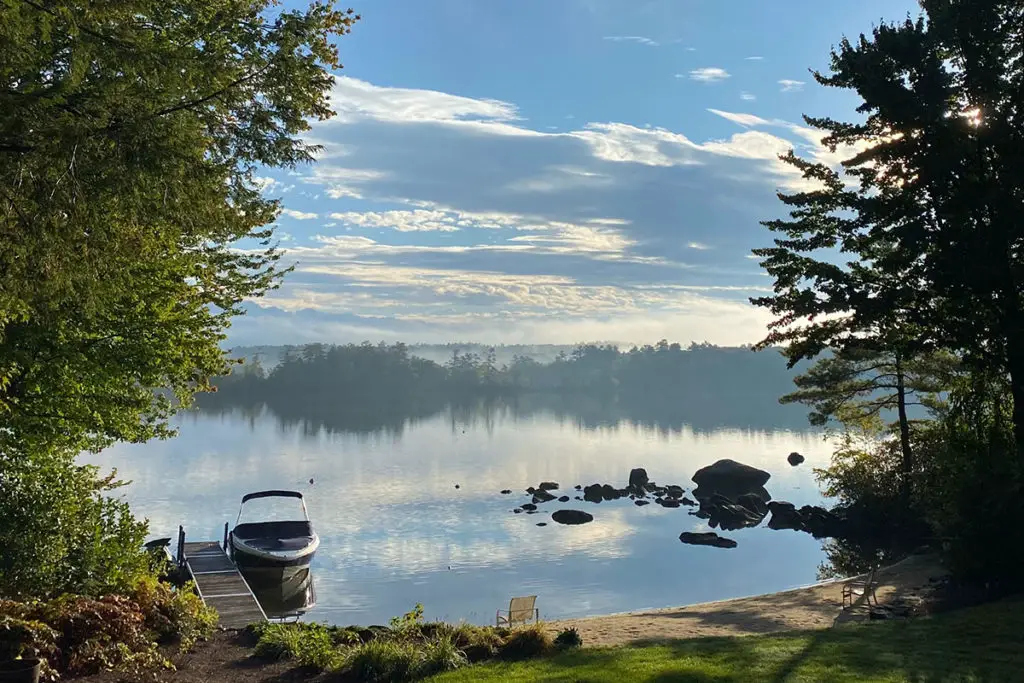 The Best Lakes to Live on Year-Round with Four Seasons in the U.S. 
Lake Winnipesaukee, in New Hampshire, is near Franklin, Bristol, and Laconia, with Wolfesboro, New Hampshire, on its shores. Housing is expensive, with a median price of $1,000,000. With many large and small islands, nine golf courses nearby, bass, salmon, trout, and ice fishing, a boat cruising season from April to October, and surrounded by natural wonders at the foothills of the White Mountains, this makes Lake Winnipesaukee a great choice.
Lake Michigan, Wisconsin, and Michigan, with the cities of Chicago, Illinois, Milwaukee, Wisconsin, and towns of Grand Rapids, Muskegon, and Traverse City, Michigan, and Green Bay, and Sheboygan, Wisconsin, plus eight beach towns is literally a great lake in many ways. Luxury homes are in demand, but there are lower price points, and they range from $80,000 to $400,000. There are 17 golf courses in Wisconsin between Lake Michigan and Lake Huron. Twelve million people live on the shorelines of Lake Michigan.  
Flathead Lake, Montana, is near the towns of Lakeside, Somers, and Lower Valley City and mountains frame its eastern border. Flathead Lake is rural, and home price points start at around $50,000, and go up to very expensive. Perch, Kokanee salmon, and trout are the most popular fish, and there are quite a few golf courses. It is ranked as one of the best places to retire to in Montana. 
Carr Inlet, Washington State, is south of Seattle near the cities of Lakewood and Tacoma, and the town of Olympia. It flows into several inlets to the west and many streams in South Puget Sound. Homes start at $380,000, and can go down, but mostly rise from there. The Lakewood border is well developed, with plenty of golf courses, and nature surrounds its western inlets. There are tons of fish species, and salmon is extremely popular and legal to fish year-round in the South Puget Sound.  
Lake Tahoe, bordering California, Nevada, is near Carson City, Nevada, and the towns of Incline Village and Stateline, Nevada, and South Lake Tahoe, Tahoe City, California. with the best restaurants, lots of skiing in the winter, tons of other activities, shopping, services, and fishing. Homes average to $800,000. The most popular species are Mackinaw trout and Kokanee salmon.  
Grand Lake O' the Cherokees, Oklahoma, offers real estate options around most of its vast beauty. Tulsa is 80 miles southwest, and the towns of Bernice, Cleora, Copeland, Disney, Grove, and Langley hug its shoreline. Average home prices are at $500,000, but that is not set in stone. The foothills of the Ozark Mountains surround this rural lake off the beaten path. Grand Lake O' the Cherokees provides golfing, restaurants, history, culture, and fishing. Anglers seek bass, catfish, crappie, and the rare paddlefish most often on Grand Lake O' the Cherokees.
Lake of the Ozarks, Missouri, offers lakefront living in and outside of the towns of Lake Ozark, Lakeside, Osage Beach, Sunrise Beach, and Village of Four Seasons. Home price points range from $20,000 to $7,000,000. It is a far distance to Kansas City, Kansas, and St. Louis, Missouri. The Ozark Mountains support magnificent nature of wildlife, fish, and forests. Plenty of golf courses, restaurants, and fish species give residents plenty of activities, with bass, catfish, crappie, and hybrid stripers as the most popular game species. 
---
The Best Lakes to Live on Year-Round with Temperate Climate in the U.S. 
Lake Havasu, Arizona, and California, is near Lake Havasu City on its eastern border, a planned development by industrialist Robert P. McCulloch in 1964, who brought the London Bridge to this lake. The Chemehuevi Reservation borders its east side. The January low is about 40 degrees. The average price for a home is $500,000. Lake Havasu hops year-round. Evocative desert beauty surrounds this lake with amazing geographical formations, a few golf courses, and tons of casinos, eateries, and nightlife, plus popular game fish species of bass, catfish, crappie, and trout in healthy populations.  
Lake Travis, Texas, is surrounded by wonderful attractions, communities, and restaurants and nightlife, plus it is only a short drive to the exciting city of Austin, but it holds a rural feel in many areas. Lake Travis is one of the deepest lakes in Texas and enchanting nature surrounds it. Homes range average from $35,000 to $7,000,000 and up. It has a few golf courses, and the fishing is awesome. Anglers mainly go after bass, including striped bass, catfish, crappie, and sunfish on Lake Travis. 
Lake Pontchartrain, Louisiana, lies on the northern border of New Orleans, and flows into Lake Borgne, which opens up into Chandeleur Sound on the Gulf of Mexico. The towns of Eden Isle, Lacombe, Madisonville, and Mandeville lie around the northeastern border. Besides the freshwater fish, endangered birds, fish, and marine animals come from the ocean to Lake Pontchartrain to raise their babies. Lake Pontchartrain is full of nature and sits right on top of the historical and intoxicating city of New Orleans. 
Big Lake and Mullet Lake are an eastern extension of Biloxi Bay, Mississippi, on the Gulf of Mexico. Biloxi, Mississippi, and the Keesler AFB sit between the lakes and the Gulf Coast. Biloxi stretches around the east to northern side and touches the border of D'Iberville next to Ocean Springs on the west. The lakefronts and bay frontage offer plenty of residential options with a thriving restaurant and nightlife scene, plus gorgeous wetland marshes, magnolia, pine, and water oak forests amid the southern U.S. Coastal Plains. Homes and high-rise condos dot the shorelines. Anglers have the best of freshwater and ocean fishing adventures all year long. 
Mobile Bay, Alabama is not a lake, but a vast Gulf Coast bay that stretches far inland to Mobile, Alabama. Its northeastern and northwestern shores hold the city of Mobile and the towns of Daphne, Fairhope, Houstonville, Point Clear, and Spanish Fort, respectively, with city conveniences and life, plus a few golf courses in Mobile. Its southeastern and southwestern shorelines are rural, offering the best of city life with the Coastal Plain's natural beauty, wildlife, and fishing. On Mobile Bay, you are reeling in ocean fish, and the getting is great. Anglers catch flounder, redfish, and snapper, plus seafood like oysters and shrimp, along with catfish and sunfish in the northern area.  
Homes are quite expensive on these coastal lakes and bays, and go over $1,000,000, but their markets are competitive, but homes for under $100,000 are available, and the weather is super nice with year-round activities. 
The Harris Chain of Lakes in Florida consists of eight main lakes, Harris, the largest, Apopka, Beauclair, Carlton, Dora, Eustis, Griffin, and Yale. These lakes sit northwest of Orlando, and all are either surrounded or partly surrounded by homes or condominiums. Home price points vary from low to extremely expensive, but many are lakefront, and some small lakefront homes can be less expensive. It is Florida, so just about anything you desire, you will find in the form of entertainment. There are few golf courses, lots of restaurants, and plenty of natural beauty on these lakes. Fish populations are healthy with bass, catfish, and sunfish.