When we are on the water in our boats, water sprays everywhere. When we are washing our boats in the driveway or in the boat slip, water sprays everywhere. Boats are wet. We want to keep our stuff dry. Here's how you can keep your gear dry while boating.
What Are the Best Waterproof Bags for Boating?
I went on a mission to figure out this quandary. There are so many waterproof bags and dry bags on the market—online—in the stores… So many sizes! So many prices! How do we know which ones are constructed of high-quality materials? How do we know if we pay more for a waterproof bag, that it will really keep our stuff dry? What the terms waterproof bags for boating and dry bags for boating mean is much more complex than one would think.
Which waterproof/dry bags are best depends on the vital components in the manufacturing of them, which are: carry methods, construction, extra features, fastenings, material, size, and water protection. Construction and water protection are the most important components.
Here are some of the top rated waterproof bags for boating:
Lew's is a fast-growing tackle brand that makes high quality gear. This is a smaller bag, but is easily stowed onboard.
Heavy-duty construction and attention to detail make this dry bag a great buy. Measuring 18″ long, it would be considered a "mid sized" bag.
Often on a boat, you just need a small dry bag to store essentials like wallets and phones. If that's what you're looking for, you can buy this Lew's bag here.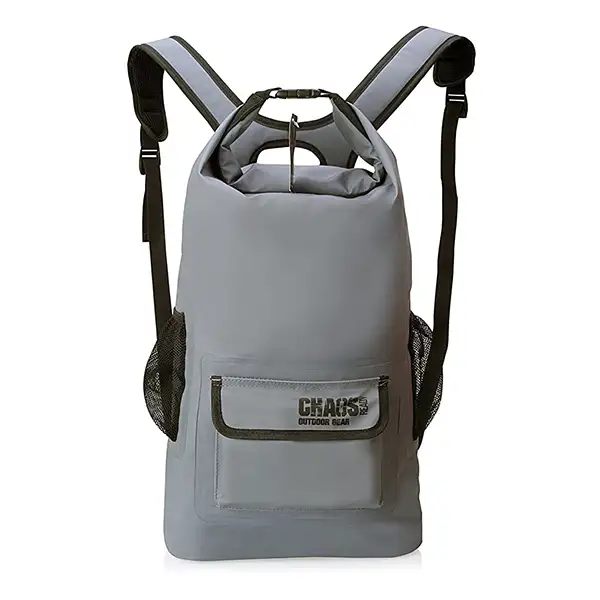 If you are looking for comfort and convenience to match waterproof performance, then consider the Chaos "Ready" model waterproof backpack.
Great for boating and kayaking, it has several features that are nice to have. There are mesh pockets on either side, an enclosed front pocket, and the waterproof main compartment.
Constructed from waterproof PVC material (like an inflatable raft), the main compartment holds 22 liters and is over 20″ long.
If you are looking for portability, you can buy this dry backpack here.
The Gonex Extra Large Dry Bag comes in 40 liter, 60 liter or 80 liter sizes. The 80 liter is a massive dry bag, measuring 31.5″ long. It comes in several neutral or bright colors.
It comes with several strap configurations, so you can carry by the ends, carry one-handed by the top, or cross body with the shoulder strap.
If you are looking for a large dry bag for your next boat outing, then definitely check this one out. You can buy it here.
---
Types Of Boating Bags
Not all boating bags are created equal, here are some of the differences and subtleties between waterproof bags, dry bags and more.
Waterproof Bags
There is a difference in the material used for waterproof/dry bags. Nylon is stronger than polyester. These fabrics have what is called a denier rating. Denier ratings are standard units of measurement the textile industry uses to rate the thickness of individual threads or filaments of fibers in the manufacturing of textiles and fabrics. You may notice a technical number like 20D, 250D nylon or 500D polyester on the label when buying a waterproof/dry bag—the higher the denier number, the stronger the fabric. 
Water-Resistant Dry Bags
Manufacturers construct water-resistant bags from thick, durable nylon that are seam-sealed. Water-resistant bags typically have roll-top closures. The more rolls a water-resistant bag has, the better it protects from water ingression. Three roll-downs offer more protection than two roll-downs. If you fill up a water-resistant bag that allows for three rolls too full, you only have room for two rolls, so the bag gives less ingression protection. Water-resistant bags do not protect in liquid submersion, but can be used inside a larger waterproof or dry bag for better protection. 
Submergible Dry Bags
Submergible dry bags made of fabric are the best bags for waterproof protection and will survive a short amount of time completely underwater. They are constructed with TPU-laminated fabric (thermoplastic polyurethane) and seam-sealed. They will not survive an extended period of time underwater. You can use smaller water-resistant bags inside of submergible bags for extra protection if they go overboard or your small watercraft flips. They are the most expensive waterproof bags.
Splashproof Dry Bags
Splashproof dry bags are made of ultra-light nylon, mainly seam-taped, and will not protect your stuff if submerged underwater at all. They are the least expensive bags. They may be equipped with roll-top closures and look like a waterproof/dry bag, and they have zippered closures. They are best used inside of truly waterproof/dry bags as an extra layer of protection and for organizational purposes.  
Carry Methods and Extra Features
Some bags come with removable pouches for organizing. Others may have compression straps or mesh pockets. Many large and medium-sized bags have external carry straps, shoulder harnesses, loops, grab-handles, tie-down tabs, and/or D-rings to attach them to boats, kayaks, and canoes. Bright neon colors make bags easier to see when submerged. Some bags come with whistles integrated into their buckles. 
---
What Does "Waterproof" Really Mean?
All dry bags have seams that are glued, seam-sealed, stitched and taped, or welded together. Welded seams are sealed with pressure and heat. Welded seams work the most efficiently and provide the most protection because there are no stitching holes in their construction. Bags with zippered closures do not offer the best protection. Medium and larger bags have roll-top closures, which are best. 
This depends on who is using the term waterproof. The most common system is the IP rating. The higher the IP numbers, the better the product protects against water intrusion. A rating of IP68 is submersible beyond 1 meter in depth. Unfortunately, many manufacturers claiming that their bags are waterproof are actually only water-resistant. 
Vinyl bags give see-through options for your stuff and are used for electronics. Hardware is important. Plastic hardware breaks more easily than metal hardware, but salt water erodes metal. External nets and bungee cords secure wet gear. Brightly and neon colored bags are easier to locate underwater. Bags with external reflective patches are useful for finding them at night. 
What Is the Difference Between a Dry Bag and a Waterproof Bag?
Some waterproof and dry bags are constructed from nylon fabric coated with silicone, vinyl, or a thin plastic. Others are made from PVC (polyvinyl chloride) tarpaulin. PVC tarpaulin is a polyester filament based on high-strength polyester canvas with a double-sided coating of PVC paste resin, a waterproof plastic polymer. 
Manufacturers design dry bags to keep water out of the interior of the bag. They design waterproof bags to create an airtight seal that blocks out liquid and moist air. Nylon fabric is suppler than PVC tarpaulin fabric. 
What Is the Difference Between Waterproof and Water-Resistant Bags?
Before you spend money on something to keep your stuff dry on a boat, knowledge of waterproof and dry bags begs the question, Are waterproof bags really waterproof? There are four categories of bags that use marketing terms to describe how well the bags keep your stuff from getting wet: waterproof, water-resistant, submergible, and splash-proof. Deceitful marketing terms serve to confuse consumers. But, these bag's technologies are not confusing, only complex.
What Dry Bags Do Navy SEALs Use?
In 2023, manufacturer Matbock sells its Mr. Dry Bag 2.0 to civilians for $900 to $1,700 for small, medium, and large-sized bags or four payments. Mr. Dry Bag 2.0 integrates an oral inflation valve for buoyancy, a removable, outer, waterproof shell, is used with or without the Mystery Ranch NICE frame, is described as fully waterproof, and dive-capable down to 150-feet.   
In 2018, the Navy equipped its SEALs with a super waterproof dry bag for its amphibious missions. The Naval Special Warfare Command boughtMatbock's Mr. Dry Bag in bulk for its elite SEALs and special boat SWCC-staffed (Special Warfare Combatant-Craft Crewmen) teams. Matbock calls Mr. Dry Bag a waterproof rucksack, but we think it is much more than that. 
---
Rating System
Price is a key indicator of how effective waterproof/dry bags are because the better the construction, the better the product. The principal items boaters want to keep dry are electronics and clothing. The International Electrotechnical Commission (IEC) provides the most commonly used waterproofing scale for rating how well a product can prevent against the ingression of solids, like dust, and liquids. The IEC's rating system is called Ingress Protection (IP).
The IP rating number looks like this: IP57. The first number rates how well a product protects against solids, and the second number rates how well a product protects against liquids. Higher IP numbers represent more protection from solids and liquids. For example, an IP rating of IP57 has a high probability of keeping your stuff dry. 
If a waterproof or dry bag does not have an IP rating, consumers can still transfer IP rating definitions by measuring the thickness of waterproof materials and how much stress the materials can withstand in millimeters (mm), inches (in), liters per minute (LPM), one thousand times the unit of pressure and stress in the meter-kilogram-second system (kPa), and meters (m). 
Consumers can determine if the thickness and stress of the materials used in the construction of these bags are represented by the materials recommended for the levels against solid and liquid ingression of the IP rating for other products. IP ratings function to determine how solid/liquid-proof electrical and electronic products are. The IP index rates how waterproof a product is.
Solid IP Rating Numbers
(1) Protected against a solid object greater than 50 mm (2 in), such as a hand.
(2) Protected against a solid object greater than 12.5 mm (1/2 in), such as a finger.
(3) Protected against a solid object greater than 2.5 mm, such as a screwdriver.
(4) Protected against a solid object greater than 1 mm, such as a wire
(5) Dust Proof: Dust must not penetrate to an extent that equipment operation or safety are impaired.
(6) Dust-tight: No ingress of dust.
Liquid IP Rating Numbers 
(1) Protected against vertically falling drops of water for 10 minutes at a rate of 1 mm per min.
(2) Protected against diagonally falling, up to 15°, drops of water for 10 minutes at a rate of 3 mm per min.
(3) Protected against diagonally falling, up to 60°, spray (like from a hose) for 5 minutes at 0.7 LPM at 80 to 100 kPa.
(4) Protected against water splashed from all directions for 5 minutes at 10 LPM at 80 to 100 kPa.
(5) Protected against a 6.3 mm water nozzle for 3 minutes at 12.5 LPM at 30 kPa at a distance of 3 m.
(6) Protected against a 12.5 mm water nozzle for 3 minutes at 100 LPM at 100 kPa at a distance of 3 m.
(7) Protected against a 30 minutes submersion at a depth of 1 m.
(8) Protected against continuous submersion at a depth of 3 m.
Fabric Millimeter Thickness Protection Ratings Table
| | | |
| --- | --- | --- |
| 0-5,000 mm | No resistance to some resistance to moisture. | Light rain, dry snow, no pressure. |
| 6,000-10,000 mm | Rainproof and waterproof under light pressure. | Light rain, average snow, light pressure. |
| 11,000-15,000 mm | Rainproof and waterproof except under high pressure. | Moderate rain, average snow, light pressure. |
| 16,000-20,000 mm | Rainproof and waterproof under high pressure. | Heavy rain, wet snow, some pressure.  |
| 20,000 mm+ | Rainproof and waterproof under very high pressure. | Heavy rain, wet snow, high pressure. |