Knives are probably one of the most versatile tools we use on a daily basis. They come in handy in all sorts of situations, regardless if you are out in nature, at your home, or in an urban environment. You can use your pocket knife to open packages, cut stuff open, or even as a bottle opener. However, a pocket knife might not be the best piece of equipment in certain situations, especially if you are outdoors. In these situations, you might be better off with sturdier choices, such as the ultimate knife for camping that we are about to introduce.
For example, if you are going camping, then you might want to consider looking into more heavy-duty choices. One of the reasons for this is because knives can handle all sorts of tasks when it comes to camping. You can use your knife for less challenging tasks such as cutting rope, preparing meat and vegetables, or cleaning fish. However, knives also have other purposes when camping – cutting wood, construction, starting a fire, opening cans, and more. Needless to say, these warrant the use of a sturdier edge, which can withstand corrosion and abrasions and preserve its sharpness for longer.
---
What Qualities Do You Need In A Camping Knife?
There are plenty of things to consider when looking for a one-in-all solution for your camping needs. The first and most important property of a good blade is the material. If you spend enough time researching, you may come across models that claim to use harder or softer steel, The latter is very resistant to corrosion and easier to maintain, but it might lose its edge faster. The former, on the other hand, will hold its edge for longer, but it might be more vulnerable to corrosion. Our suggestion is to stay away from these fancy options and go with the time-tested stainless steel blade.
The stainless steel used in modern blades typically consists of steel and several other elements such as silicon, nickel, chromium, aluminum, and others. This alloy is very resistant to corrosion and rust, and it is fairly easy to maintain. Carbon steel is by far the superior choice because it is extra strong and can retain a perfect edge for much longer.
Since you will be using this knife for all sorts of tasks, we suggest going with a fixed blade and a full tang build. These two properties ensure that your knife will survive all sorts of abuse and that you will not need to replace it in a few months. Using a fixed blade eliminates all sorts of unnecessary mechanisms, which could break or corrode, rendering your blade useless. The full tang build, on the other hand, means that the steel blade extends through the handle, reducing the chances of it breaking or crooking.
The thickness of the edge is also something to take into consideration. Typically, if you meet the two requirements in the above paragraph, you are unlikely to need to worry about blade thickness – it will be at least 0.15″.
And while we are on the topic of the ultimate knife for camping, it is important to add that packing a pocket knife is also strongly recommended. It is easily accessible in all sorts of situations, where you might not be able to easily access a full, fixed-blade knife. For example, dealing with fishing supplies and accessories is easier with a smaller knife. 
---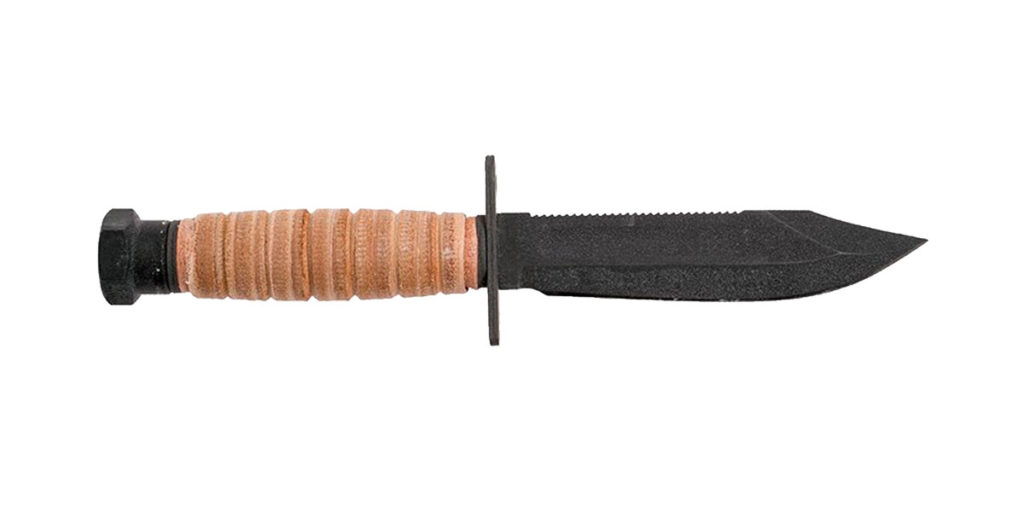 The Ultimate Knife for Camping – OKC 499 Air Force Survival Knife
While there are many models that meet the description above, few of them come with the price tag of the OKC 499 Air Force Survival Knife. At $50-$60, it is one of the most affordable options without making any compromises when it comes to quality. While you can go with a $300 KA-BAR fixed-blade knife, most people are discouraged by the price tag. If you are, however, considering going with a cheap fixed-blade knife, I have to encourage you to think ahead. A $20 fixed blade knife is not reliable, and it is very unlikely to be full tang, meaning it is prone to break eventually. Using a cheap blade for heavy-duty tasks is dangerous and unreliable.
What is so special about the OKC 499 Air Force Survival Knife, though? For some background, this is a MIL-SPEC model, so you know that it is a quality knife. It is in use by the United States Air Force.
Needless to say, we are talking about a fixed-blade knife with a full tang body. The material used by the Ontario Knife Company is 1095 carbon steel, and the knife has a thickness of 0.1875″. The length of the blade is 5″, but the full length is 9.5″. The blade profile is mostly straight, with a curve at the end of the bottom side. The top side features a curved point, as well as a serrated section at the top, which could be used as a saw for non-challenging tasks.  
Storage will also not be an issue when it comes to the OKC 499 Air Force Survival Knife. It arrives with a leather sheath that also packs a sharpening stone. The stone is far from perfect, and we would advise you to go with a higher-quality sharpening stone. However, it can get the job done if you need to use it in a hurry. With good maintenance, the OKC 499 Air Force Survival Knife can last you for many years to come, thanks to its impeccable material and build quality.
Talking of maintenance, it does not take much for the OKC 499 Air Force Survival Knife to last you over a decade. Since there are no moving or mechanical parts, all you need to do is to take care of the blade as well as you can. This includes cleaning off any residue after using it, keeping it dry, and, of course, oiling it regularly. A small accessory that helps with all this is a silicone cloth. It is typically used to maintain guns and ammunition, but it also does an ideal job at maintaining blades clean and oiled.