If you're looking for a great inexpensive gift for the angler in your life, consider a fishing atlas this holiday season. A fishing atlas, or a shelf full of atlases, can be a wonderful surprise for the fisherman who has everything.
While generic fishing books can have some useful info, often you will end up with a book that does not contain information relevant to your specific location. This is where a fishing atlas comes in handy, which can provide you with all of the valuable information about the specific location you are planning to visit. However, are fishing atlases really that good? Below, we will go over our thoughts on the newly released Sportsman's Connection Fishing Atlas. Keep in mind that this book is available in multiple variants, depending on your region. Some of the highly sought-after variants for dedicated bass anglers are the Texas West Metro, Texas East Metro, Eastern Tennessee, Middle Tennessee, and Western Tennessee.
For starters, let's talk a bit about the size of this particular fishing atlas book – it is huge. While the 11 x 15″ format might not be ideal for carrying around, it enables the authors to provide very accurate maps, details, and other data. Thanks to this, the atlas also features tons of more information in its approximately 160 pages. Last but not least, the covers have a great water-resistant coating, which can protect the contents from splashes if you end up taking it on your boat. While it is not ideal for carrying around for a casual fishing trip, it is perfect if you decide to go on a multi-day fishing vacation, or for planning your adventure. Exploring the atlas' contents beforehand will provide you with lots of useful information that we are about to talk about in a bit.
---
Fishing Atlas Book Review – Suitable for All Anglers
Even if you have years of experience behind your back, you might still get a lot of new facts from fishing atlases like this one. They contain valuable tidbits of information that you may not easily find elsewhere. Of course, not all of it is applicable or usable, but there are certain sections about fish species, for example, that contain a lot of information. The Texas West Metro fishing atlas book revealed some less known species of fish in the area, as well as helpful data about the different types of shad found in certain lakes, rivers, and other reservoirs.
Apart from fish species, you will find plenty of details about the rivers and lakes in the area. Other helpful bits of information that are suitable for both experienced and inexperienced fishermen are the list of knots and instructions on how to use them. Last but not least, newbies will be excited to check out the sections that give a brief introduction and tutorials on tackle.
---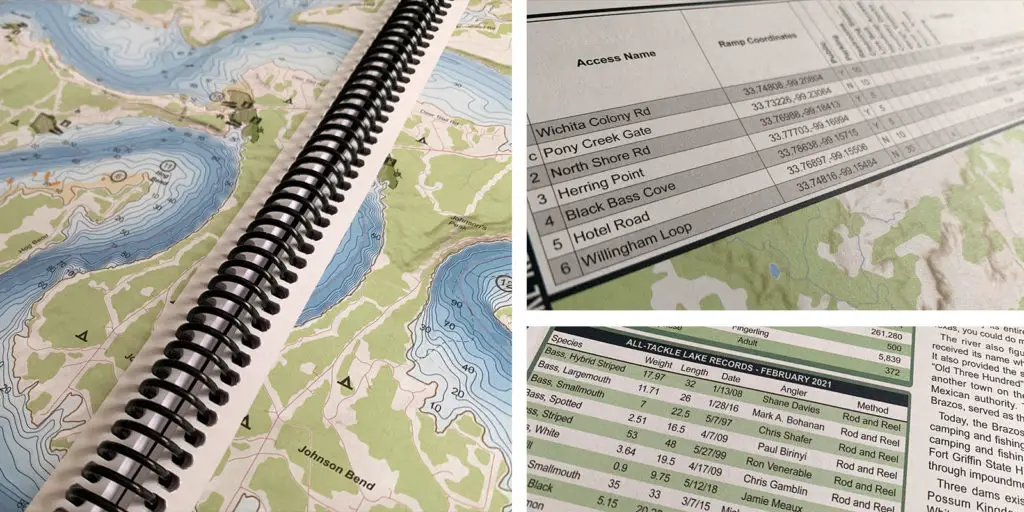 Detailed Lake Information in the Fishing Atlas Book
Apart from the lake and river overview that we already mentioned, the atlas also hosts tons of detailed information about each individual lake or reservoir – in addition to a more detailed map. This makes it ideal for planning your fishing trip and exploring the possible destinations to target. Another useful piece of data you will find is seasonality, as well as tips and tricks that are location-specific.
The topographic map of your desired location will reveal a lot about the possible fishing spots – the authors have already included some of their own. The map is filled out with other useful data – boat ramps, camping spots, state parks, and more.
However, there is one downside to this that you must not forget – the information in the book does not change once it's printed. Even if it was released just a few months ago, lake amenities change from time to time. It is always a good idea to refer to the particular lake site website to get the most up-to-date information about access points, rules, water level, boat ramps, and other features.
---
Are there Downsides to this Fishing Atlas Book?
All things considered, the downsides are minimal, and they are most certainly not a deal-breaker. You will be very happy with this book, as long as you remember some important things. As we already established, you are not dealing with real-time data. This is why you should not blindly trust the fishing atlas when planning your trip – refer to official websites and social media to double-check that the situation has not changed. For example, boat ramps suffer from erosion, and they need to undergo repairs every now and then – the creators of the fishing atlas cannot account for this. Water levels change, which may affect lake access or fishing conditions. This is not an atlas-specific downside since all books suffer from the same issue.
Another thing to consider is that you might need to buy more than one book if you plan to span your fishing trips over multiple areas. For example, the Tennessee version is, as we already mentioned, available in three books. This does increase the price a bit to cover the entire state, but at least you know that you are paying for excellent quality and research – it is not possible to fit all of the information in just one bulky book that will be over 500 pages. The way that the Sportsman's Connection Fishing Atlas is split into different regions is excellent, considering the amount of information it contains.
---
Final Verdict on the Atlas
Overall, it is a great bang for your buck – regardless of how much experience you have. While carrying this around is not ideal, it is the perfect assistant to use while planning your next trip. We have covered just the primary parts of the data it includes, so make sure to check it out in person to get a better idea about the immense help it can offer.
Even if you do not use it that often, 90% of the information there is evergreen, and it will help you at some point. Of course, as we already mentioned, there are some situations where you need to do your own research instead of trusting the atlas blindly. Last but not least, it is an ideal book to show friends or to even use as a gift for someone who expresses interest in fishing.
We have found the best price for your new fishing atlas here.