How to experience the absolute best mother earth has to offer! The most awe-invoking and inspiring lakes are natural wonders existing all over the globe. Lakehub.com recently had the pleasure to learn about some of the world's most beautiful lakes ever! It is like the water is always prettier on the other side of the world. 
What Are the Most Famous Lakes in the World?
We researched lakes all over the world, thanks to Conde Nast, research and travel bloggers, we found ourselves wanting to globe trot to these remote and not so remote lake destinations.
Lake Baikal in Russia
Lake Victoria in Africa (Kenya, Uganda and Tanzania)
Loch Ness in Scotland, UK
Lake Bled in Slovenia
the Dead Sea in Israel and Jordan
Laguna Colorada in Bolivia
Lake Tanganyika in Africa (Tanzania, Zambia and the Congo)
Crater Lake in Oregon, USA
Lake Geneva in Europe (Switzerland and France)
Hutt Lagoon in Australia
Lake Titicaca in South America (Bolivia and Peru)
Attabad Lake in Pakistan
Lake Nakuru in Kenya
Lake Como in Italy
Lake Atitlán in Guatemala
Moraine Lake in Canada
Lake Bacalar in Mexico
According to Conde Nast, a global media parent company with one of the best-known travel information companies in the world, the top ten lakes and the most beautiful lakes in the world are all over the globe. Amazing lakes with hypnotizing features and wide spectrums of colors attract visitors in droves. We choose to highlight the following ten lakes.  
---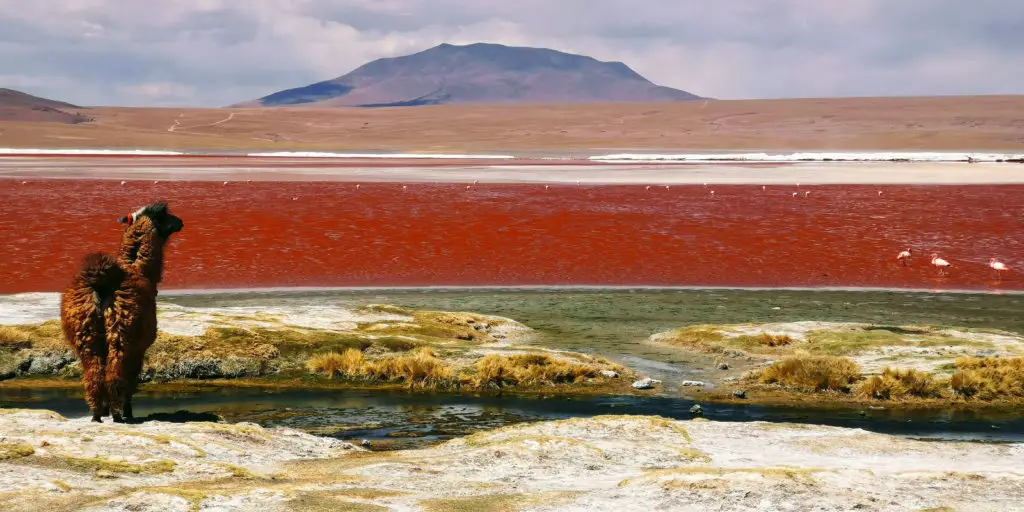 Laguna Colorada, Bolivia
Laguna Colorada sits high in the Andes Mountains. Its crimson colored water gets its hue from red algae, but local folklore attributes its water's color from the blood of the gods. Laguna Colorada is beautiful and shallow. Between December and April, it is full of pink flamingos.
Laguna Colorada is located in southwestern Bolivia about ten miles from the Peruvian border between the dusty tracks of the Siloli Desert and the Eduardo Avaroa Andean Fauna National Reserve. It lies in a large high-altitude desert plain of smoking volcanoes, and rock formations reminiscent of Salvador Dali's paintings. 
---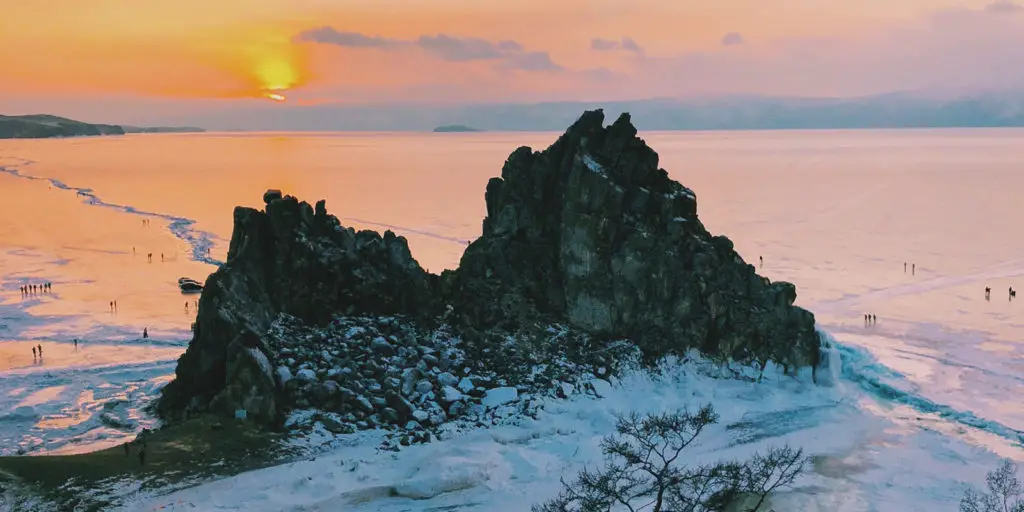 Lake Baikal, Russia
Lake Baikal, spelled Ozero Baykal in Russian, is said to be the world's deepest lake and the world's oldest freshwater lake. It is 20 to 25 million years old. Lake Baikal is located in the southern part of eastern Siberia, within the republic of Buryatia and the Irkutsk Oblast Province of Russia.
Lake Baikal is a mile deep in some parts. Mountains that rise over 6,600 feet surround it. Breaks in earth's crust produce hot mineral springs in the area and occasional earthquakes. It is 395 miles long, its shoreline runs 1,300 miles, and it contains over 45 islands. Over 330 rivers and streams flow into it, but its only outlet is the Angara River. 
---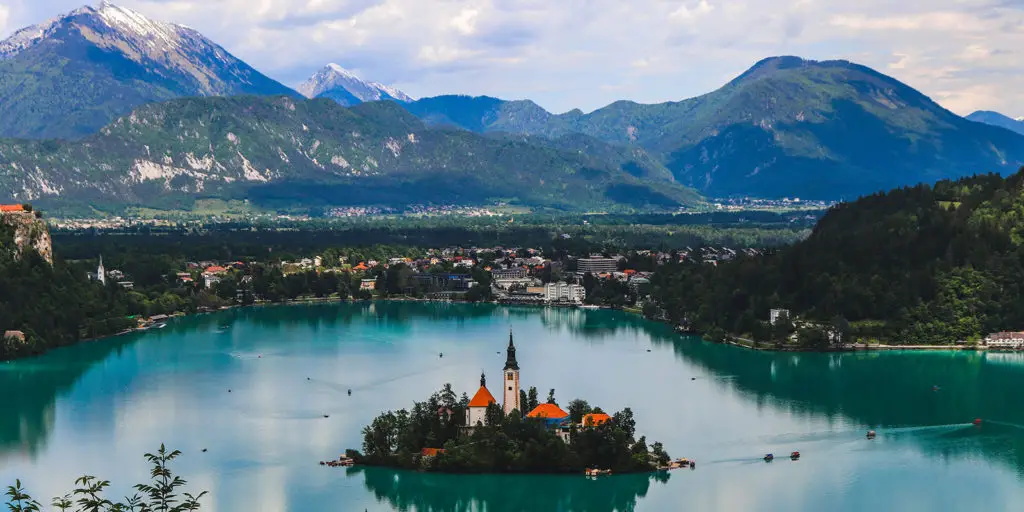 Lake Bled, Slovenia
Lake Bled, one of Slovenia's most popular destinations, has vistas of the Julian Alps surrounding it, emerald-colored waters, the most popular island in Slovenia, and thousands of daily visitors. Folklore attributes its origin to fairies because the sheep were eating the soft grass, fairy dance floor. The shepherds refused to protect their dance floor, so the fairies created Lake Bled.
Blejski Otok, the island, is less than one acre in size with two chapels and a church, and a few buildings. The Pletna Boat takes visitors to the island, and it looks like a gondola. The Assumption of Mary Church has a wishing bell that grants a wish to anyone who rings it, but visitors have to climb 99 steps to reach the church and bell. 
---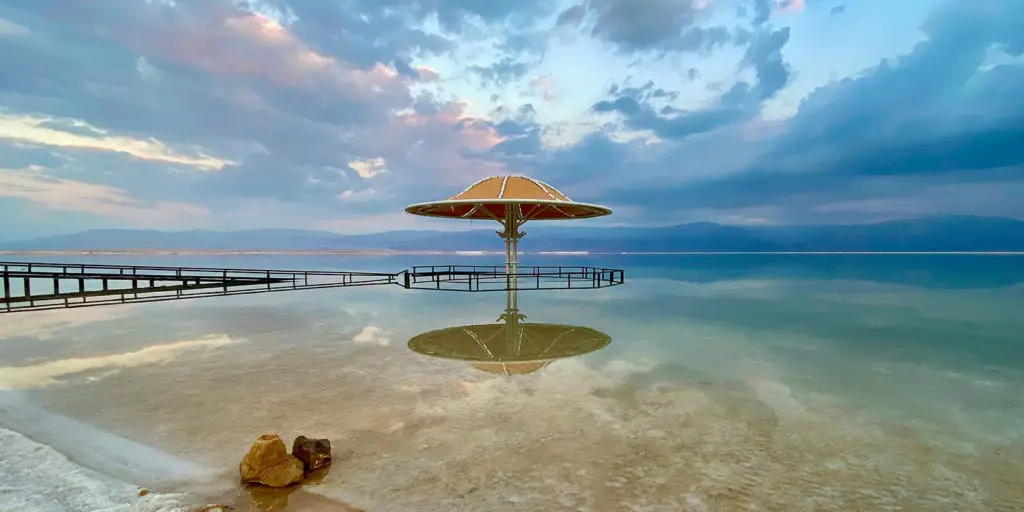 The Dead Sea, Israel and Jordan
The Dead Sea, on the borders of Israel and Jordan, is a saline lake. Mountains lined with palm trees surround it, and rippled salt deposit strips run along its shores. The Dead Sea is known as an intriguing phenomenon. The only living things in the Dead Sea are microorganisms and algae. 
Turquoise water colors the Dead Sea. It has almost ten times the salt as seawater. Its salty water contains healing properties. It is a popular destination for treating skin conditions, like acne, psoriasis, cellulite, muscle aches, and arthritis. The Dead Sea lies in a vast desert, and the searing hot climate evaporates huge quantities of water. It is the biggest free spa in the world.
---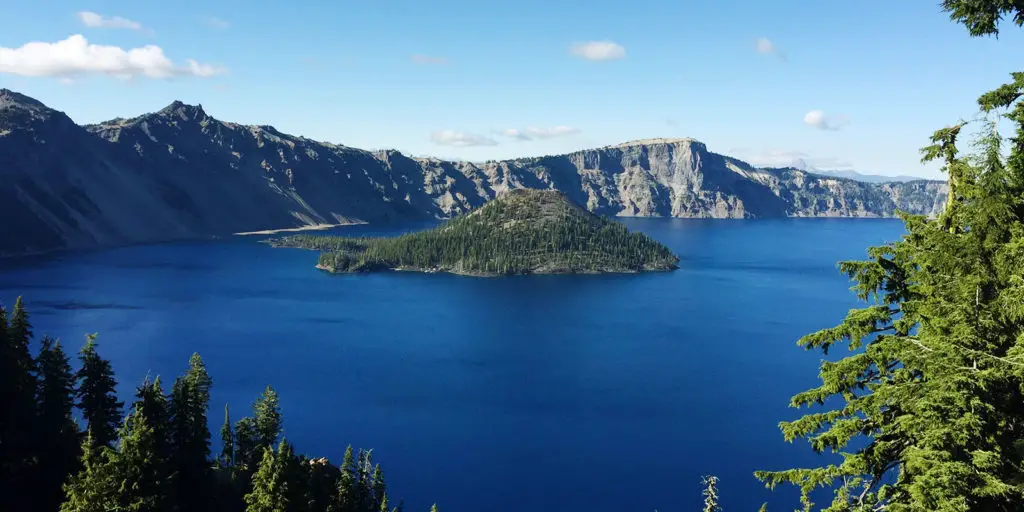 Crater Lake, Oregon, USA
Crater Lake is about a four-hour drive east from Portland. Crater Lake is the deepest lake in the U.S. at 1,949 feet deep and known as deep water in a sleeping volcano. A caldera rim surrounds Crater Lake. A caldera is a large volcanic crater. Sweeping panoramic vistas, ponderosa pine forests, and amazing meadows in summer surround it. In winter, snow covers its landscape with smoky clouds hovering over the lake. 
Crater Lake's waters are clear with an intense blue hue. Glacial runoff and precipitation are its only sources of inflow. Entering it from the caldera is illegal and dangerous. The only legal place to access and swim at Crater Lake is at its Cleetwood Cove, via Cleetwood Cove Trail, a steep, strenuous hike, and located on East Rim Drive on the northern shore. 
---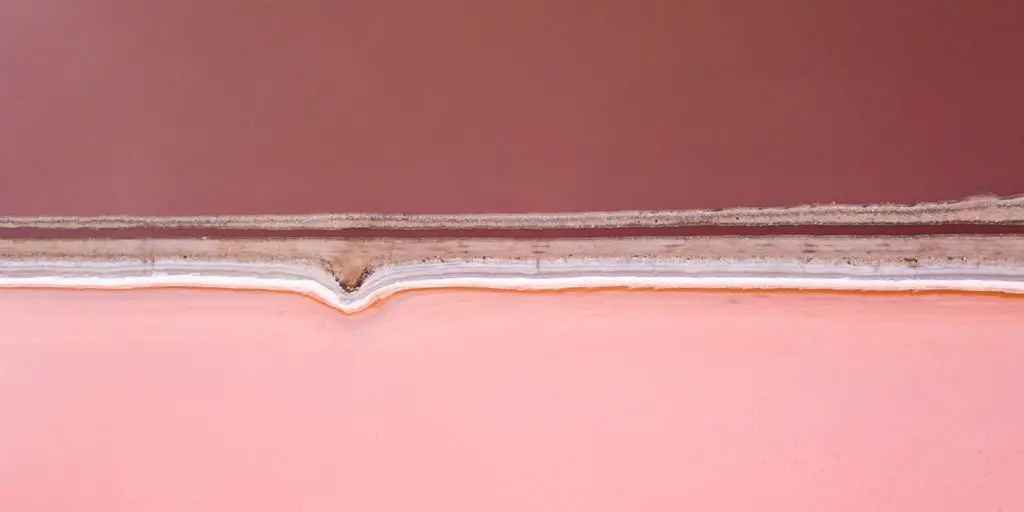 Hutt Lagoon, Australia
Hutt Lagoon, located 280 miles north of Perth in Western Australia on the Indian Ocean coast, is one of Australia's "pink lakes". It transforms in color from pink to red to purple depending on the season and the time of day. Early morning is the best time to watch the colors change before your eyes on Hutt Lagoon. 
Hutt Lagoon owes its changing colors to the presence of the carotenoid-producing algae, Dunaliella salina, a source of B-carotene, a food-coloring agent and source of vitamin A. Hutt Lagoon produces a commercial supply of Artemia parthenogenetica brine shrimp. Artemia is a specialty feed used by prawn and fish farmers and the aquarium fish trade.
---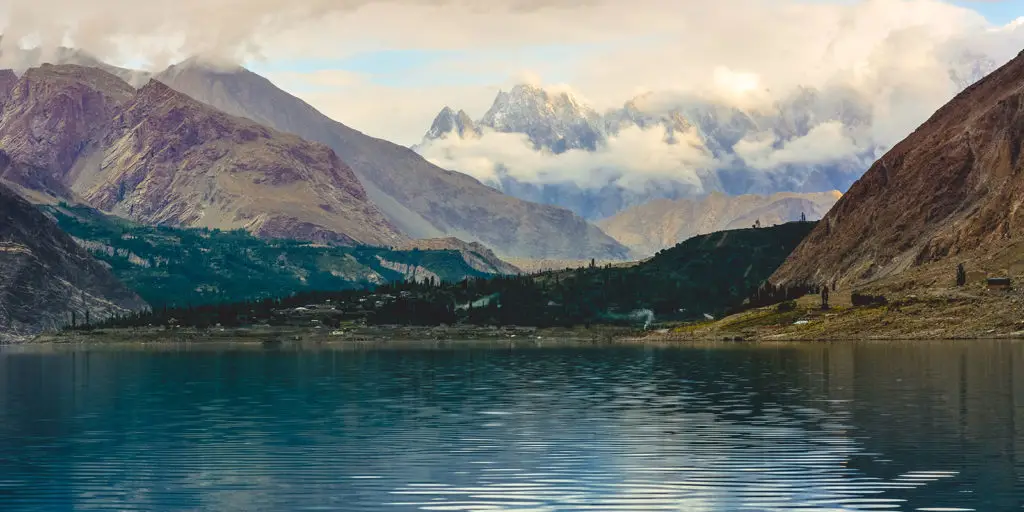 Attabad Lake, Pakistan
In 2010, a landslide buried the village of Attabad in northern Pakistan. It cut off the flow of the Hunza River, and this caused the village to fill rapidly with water. Attabad Lake's waters are an intense, dazzling turquoise hue. Locals have since built hotels, guesthouses, and campgrounds around the lake, which has become a tourist destination, resulting in their abilities to rebuild their lives. 
Attabad Lake is in Hunza Valley in northern Pakistan. Attabad Lake is over 300 feet deep, 13 miles long, and surrounded by the Karakoram Mountains. After the landslide, it only took five months for Attabad Lake to cover the village and its major highway, and inundate 170 houses and 120 shops. Attabad Lake is most popular in the summer months for touring and watersports. 
---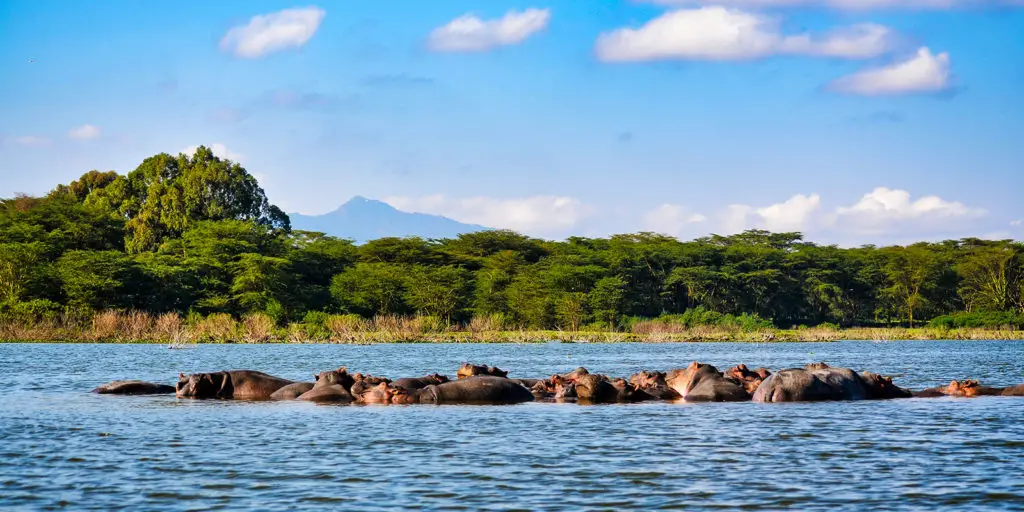 Lake Nakuru, Kenya, Africa
Lake Nakuru, located in the Rift Valley in the middle of eastern Kenya, attracts large numbers of wildlife, including flamingos, leopards, and lions. The Lake Nakuru National Park protects the wildlife, and it fosters a black and white rhino-stocking program, but human activity still threatens the lake and its wildlife. It is about a two-hour drive northeast from Nairobi, Kenya. 
Lake Nakuru is surrounded by a grassland savannah and low-rolling hills, is highly saline, one to six feet deep, and supports a biodiversity of aquatic life. When the water is high, it swarms with thousands of flamingos. Lake Nakuru is a birdwatcher's paradise, and they look for African fish eagles, Verreaux's eagles, Goliath herons, kingfishers, a dozen predator birds, and 400 species of other birds. 
---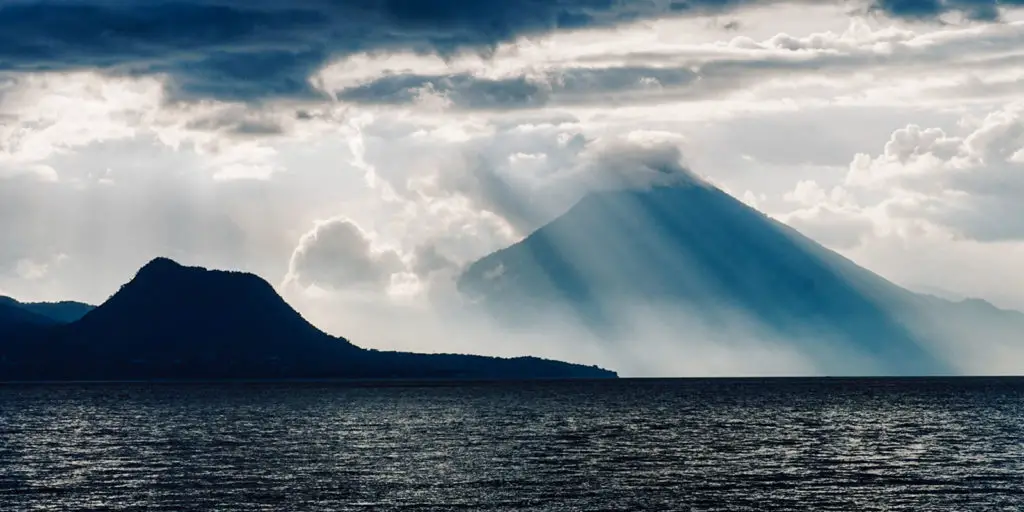 Lake Atitlán, Guatemala
Lake Atitlán sits in the southwestern part of Guatemala in Central America. It is a gorgeous lake in a volcanic crater in the Guatemalan highlands surrounded by dense forests, volcanoes, and Mayan villages. The volcanoes, Atitlán, Tolimán, and San Pedro are called The Three Giants. There are seven villages around the lake, and the locals sell beautiful crafts and create festive atmospheres. 
People describe Lake Atitlán as having an Eden-like beauty, and hiking and mountain biking are extremely popular. Its lush forests provide a habitat for the elusive national bird, the quetzal. The Audubon Society, certified by Guatemala's National Institute of Tourism, offers a classic bird watching tour by trained guides to see the quetzal and other birds around the lake. 
---
Lake Bacalar, Mexico
Lake Bacalar lies in the extreme south of the state of Quintana Roo, Mexico, near Belize. Its varying shades of turquoise and blue remind visitors of French Polynesia. Its waters are clear and perfect for snorkeling, diving, and photography. Lake Balacar is known as "The Maldives of Mexico". The Mayan natives call it Lagoon of Seven Colors. There are loads of places to visit.
The best way to see everything on Lake Balacar is to take a boat tour. There are waterfront restaurants and cafes, upscale resorts, luxury bungalows, and hostels, and car rentals, buses, taxis, and several air travel options. Kayaking and paddleboarding is  a great way to see Lake Bacalar. Lake Bacalar also has cenotes, underwater sinkholes filled with freshwater that visitors love to see.