Have you heard about underwater scooters for scuba divers and snorkelers? The military first designed underwater scooters to transport people and equipment with torpedo technology during WWII. This article reviews three underwater scooters for under $1,000. 
Underwater Scooters are mechanically propelled vehicles that pull people underwater with more power than swimming. They are called Diver Propulsion Vehicles (DPV), Underwater Propulsion Vehicles, Underwater scooters, and Swimmer Delivery Vehicles (SDV).
Underwater scooters allow scuba divers to move faster through water with less exertion and to use less oxygen, so divers can stay underwater longer. Some underwater scooters are small enough to carry instead of transporting it on a trailer. They provide a unique swimming and diving experience. 
Most underwater scooters are battery powered, most batteries do not have long battery lives, and their batteries can have long charging periods. It is a good idea to have a backup battery. Most underwater scooters travel at speeds of 2.5 mph to 4 mph. The fastest sea scooter runs at 12.4 mph. They provide forward propulsion through a simple propeller system at the rear. 
Underwater scooters have recreational, scientific, and military uses. Underwater scooters include a wide range of models, from effortless portable units with low speed, to enclosed units that carry several divers longer distances at higher speeds. Underwater scooters are also popular with snorkelers. 
---
Know Before You Go Underwater Scooting with a DPV
DPVs, or "underwater scooters", extend the range of a diver who is restricted by the amount of breathing gas in their oxygen tanks, and the rate at which the diver consumes breathing gas. Exertion, diver fatigue, and time limits imposed by decompression obligation can increase a diver's consumption of breathing gas. These factors depend on the dive profile.   
Divers need to learn how to simultaneously master depth control, buoyancy adjustment, monitoring of breathing gas, and navigation of a sea scooter. Diving schools offer different levels of DPV courses, from those for recreationasl use to advanced courses for deep diving and underwater cave diving. You can learn on your own, but most diving schools recommend a basic course for recreational users. 
Buoyancy control is critical for safety because DPVs are designed to dynamically compensate for poor buoyancy control by thrust vectoring while moving. But when divers stop moving, they could be perilously positively or negatively buoyant if adjustments are not made to compensate for the changes in depth while moving. A DPV can increase the risk of a siltout if the thrust is allowed to wash over the bottom of the water body.
A quick ascent or descent can cause divers to experience barotrauma or decompression sickness. Diver's temperatures can drop because they are not kicking for propulsion, so divers need to adjust their thermal insulation. For long penetration dives, divers need to compensate for the amount of breathing gas in their tanks for exit and decompression times.
For underwater photography and video, the DPV occupies the use of one hand. DPVs are bulky and maneuvering in tight spaces is difficult. DPV movement and noise can frighten fish and marine into hiding or swimming away. Some of the smallest marine life can only be viewed by divers who move slowly or have keen eyes. 
Underwater Scooters for Swimming Pools
Keep in mind that underwater scooters for swimming pools need to be lightweight and compact. Children can operate them safely in swimming pools and other bodies of water, but an adult should accompany them at all times.
Underwater Scooter Price Ranges
Underwater scooters range in price from around $400 to $12,000. 
Underwater Scooter Battery Life Ranges
A beginner's sea scooter should have a battery life of around 40 to 50 minutes. Sea scooter batteries for longer exploration expeditions will last up to 120 minutes. For longer lasting underwater fun, purchase an extra battery and keep it fully charged on hand.
---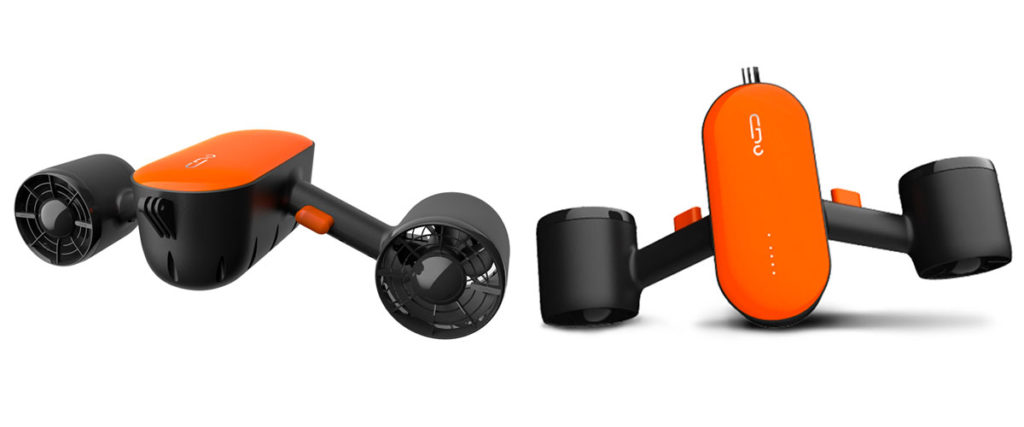 Underwater Scooter Geneinno S2
The Geneinno S2 portable and powerful underwater scooter is the most affordable at $399. It is orange, weighs only 5.9 pounds, and fits in a backpack or carryon bag. You can propel through the water at 2.7 mph like a dolphin or glide on the surface for snorkeling. 
With the S2's APP control, you can check the status of your S2, change settings and record the speed, depth, distance, and battery consumption, With the parental mode feature that you set within the APP, you can monitor your children while they learn to swim. Through the APP control, you can share your S2 adventures with your family and friends on Facebook, Twitter, and YouTube.
The Underwater Scooter Geneinno S2 Features: 
Long-life and rust-proof motors with advanced anti-corrosion treatments to ensure a long life for use in salt water. 
Is designed with a special bearing and sealing technology coupled with water-cooling to ensure a durable service life. 
Is GoPro compatible which makes attaching your favorite action camera or lights easy on its integrated GoPro mount. 
Powerful motor can bring you to dive to 164 ft. depth, dual thrusters provide up to 26lbs power, reaching 4 mph swimming and diving experience.
Positive buoyancy material selection for keeping it floated in the water all the time while you need to pause it or change the battery.
Long-lasting removable battery performs up to 45 minutes running time in the water and takes only 1.5-hours to recharge with full power.
Material type: Plastic.
Lithium ion battery included.
Ideal for swimming pools, water parks, shallow dives, scuba diving, snorkeling, ocean diving, aquariums, and chasing with 2-level-speed.
Here is the best price on the Geneinno S2.
---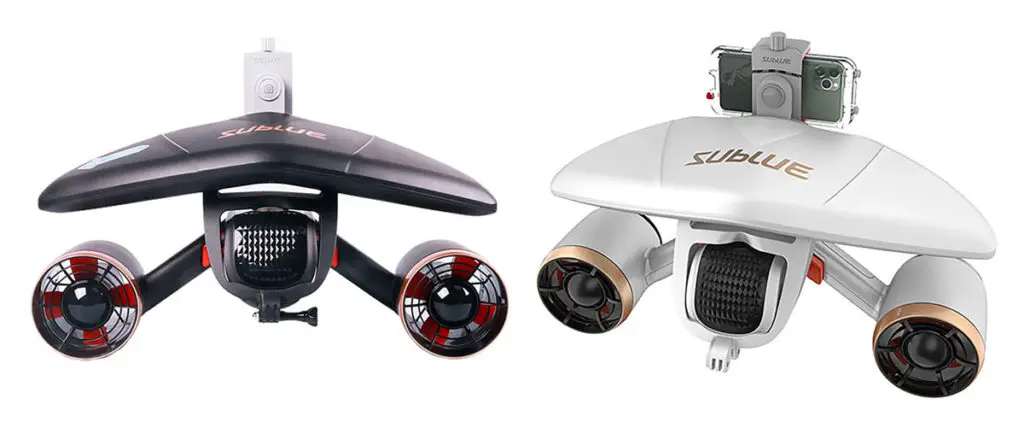 Whiteshark MixPro Underwater Scooter by Sublue
The Whiteshark MixPro Underwater Scooter is a mid-range product at $699 and comes in Black Gold or White Gold. It weighs 7.82 pounds and its dimensions are 18.30 x 9.05 x 9.05 inches. The Whiteshark MixPro Underwater Scooter pulls you through the water at two speeds, 5.9 feet per second or 3.9 feet per second. Whiteshark MixPro is suitable for the pool, snorkeling, scuba diving, and free diving.
The Whiteshark MixPro Underwater Scooter Features:
Tested for sealing, salt corrosion and sand resistant performance.
Buoyancy regulator.
Lithium-ion battery and rapid two-hour charging and a 60-minute battery life approved by the Federal Aviation Administration to take on board airplanes.
Goes down to 131 feet below water surface.
Fits in carryon bags.
Captures video and photos with your smartphone by securing it onto the designated phone mount located on the floater or by attaching your action camera on the universal mount. 
Accessories include: Fast charger, floater, anti-lost strap, smartphone mount, 122 watt hours³ li-ion battery.
Here is the best price on the Whiteshark MixPro.
---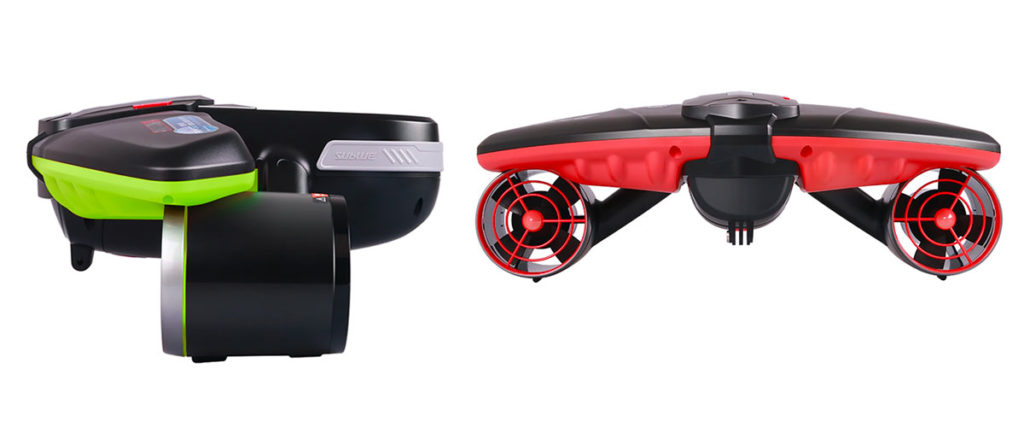 Navbow Underwater Scooter by Sublue
The Navbow Underwater Scooter is our most expensive recommendation at $999 and comes in Active Green or Flame Red. It weighs 20 pounds and is 22.75 x 17.50 x 10 inches. The Navbow Underwater Scooter has a tri-speed switch with speed ranges at 2.24 mph, 3.36 mph, and turbo speed at 4.47 mph. 
Navbow Underwater Scooter Features:
Intelligent APP Control that sets depth, temperature sensors, battery alarms, underwater experience logs, and more, plus social media sharing capability.
Auto-shutdown if something goes wrong during your dive.
OLED Data Display for optimal status quick view.
Anti-corrosion technology.
Dual-motor underwater scooter supports one-handed operation.
Includes one lithium battery with up to 75 minutes of battery life and a low battery alert.
Goes down to 131 feet below water surface.
Optional Sublue photography platform where you can attach action cameras, waterproof LED lights, float arms, etc.
Here is the best price on the Navbow.