When people worldwide think of Nevada, they typically think of Las Vegas. However, up north there is one of the most beautiful mountain lake experiences straddling the California/Nevada state line. Surrounding Lake Tahoe are hauntingly gorgeous forested mountains offering an entirely different and unique outdoor experience. Lake Tahoe itself provides wonderful opportunities for ideal vacations in California and Nevada, along with its surrounding attractions and activities. Although Nevada is famous for gambling, it is only a wee part of the Lake Tahoe experience. 
Things to Do in Lake Tahoe in the Summer
What do people do at Lake Tahoe? They create amazing adventures which make memories that last them a lifetime. There are literally hundreds of adventures to be had in Lake Tahoe's warmer months. Besides camping, the following is a comprehensive list of summer attractions and activities at Lake Tahoe. 
Getting out on the water at Lake Tahoe is a given. Bask on Lake Tahoe's wonderful beaches, bring your boat, rent a boat or water sports equipment, camp, glamp, or fish.
Here are fun things you can do in Lake Tahoe in the Summer:
Photograph hounds can take advantage of any Lake Tahoe tour genres, such as the Lake Tahoe Small-Group Photography Scenic Half-Day Tour or the Sunset Hike and Photography Tour in South Lake Tahoe.
Full-Day Lake Tahoe Circle Tour including Squaw Valley: This seven-hour shuttle bus tour includes a hotel pick-up and drop-off shuttle bus to the site with a guide and food and drinks.
Guided Tour of Historic Virginia City and Carson City from South Lake Tahoe: Follows part of the Pony Express route to the Comstock Lode, Mark Twain history, and time to explore both cities. 
Wild West Day Trip from Lake Tahoe with Train Ride: A 19th century 6.5-mile round-trip train excursion from South Lake Tahoe to Virginia City, Nevada, with free time to explore historical museums and a Western saloon from yesteryear.
Helicopter Tours: Emerald Bay Helicopter Tour of Lake Tahoe or Zephyr Cove Helicopter Tour.
Tahoe Coastal Self-Guided E-Bike Tour: A half-day e-bike ride on the well-traveled East Shore Trail.
Four-Hour Lake Tahoe Polaris Slingshot Rentals: A half-day rental gives you enough time to drive around Lake Tahoe in its entirety and stop for sight-seeing too. 
Captain Guided Boat Tours: Like this one, a 90-minute Emerald Bay private boat tour for up to six guests. Also available are sailing cruises, and private yacht tours. 
Kayaking is a great way to discover Lake Tahoe: Clear Kayak offers see-through-bottomed kayaks. Check out other kayaking touring businesses, plus kayak rental services abound at Lake Tahoe. 
The Ultimate Lake Tahoe Self-Guided Driving Audio Tour: Download its smart phone app and discover Tahoe's treasures, historic and natural, that are tucked away from the maddening crowds. 
Mountain Climbing Lake Tahoe  
Mountaineering is a momentous and strenuous physical activity. Mountain climbing requires excellent physical conditions because it is a full-body sport. It engages your core muscles in a way that other sports cannot, and mountain climbing enhances extreme endurance. Mountain climbing at Lake Tahoe proves to be the ultimate physical test, but you must be in good physical health and physically fit to attempt such a feat. 
Tahoe Via Ferrata 
Blue Granite Climbing Gym
Trippy Rock
Monkey Rock
Pie Shop Boulders
Alpenglow Expeditions
Echo Peak
Trail To Big Chief Climbing Area
Hang Glide Over Lake Tahoe
Hang gliding is one of the most thrilling and yet relaxing experiences, but not without peril. You can be sure these Lake Tahoe hang gliding professionals carry FAA approved certifications. Hang gliders are aircraft, just like any airplane. Weather is of the utmost importance for any flying situation. Your Lake Tahoe hang gliding pilot will keep you informed if the weather is safe for flying, otherwise… "Smooth sailing through clear skies, my friend!"
Lake Tahoe Paragliding
Hang Gliding Tahoe
Slide Mountain Hang Glider Landing Zone
Lake Tahoe Hiking and Biking Trails
The Tahoe Rim Trail is the ultimate trail at Lake Tahoe. It encompasses Lake Tahoe for a length of 170 miles. It ranges from a height of 6,223 feet to 10,338 feet at Relay Peak in elevation. Hikers cannot depend on extended-length parking at its trail heads; many hikers take on this trail in one section or only parts of its sections at a time. The Tahoe Rim Trail total hike is journeyed by experienced hikers and comprises eight sections. 
Safety precautions are in order when hiking anywhere in any season in the Lake Tahoe region. The Tahoe Rim Trail is not the only trail at Lake Tahoe by far. An abundance of other Lake Tahoe trails lure foot-trekking pathfinders to their quests. Physical abilities and time frames must be taken into consideration. Many trails at Lake Tahoe rise steeply in elevation. 
Hikers need to map out their intended routes and let someone know where and when they are planning to hike and when they are planning to return. Cell phones may not work, so a compass is an absolute necessity. In summer, it is dry and hot. In winter, one can freeze to death. Hikers must take plenty of water and trail food and wear appropriate gear, depending on the season. Good quality hiking boots, hats, and layered clothing (even in summer) are a must, along with sunscreen (even in winter), and sunglasses.
Balancing Rock Nature Trail
Bayview Trailhead
Cascade Falls
Cascade Falls Views
Cave Rock Trailhead
D.L. Bliss State Park
Desolation Wilderness
Eagle Falls Trailhead
Eagle Rock Trailhead
Lam Watah Nature Trail to Nevada Beach
Mt. Tallac Trailhead
Rubicon Trailhead Midway
Rubicon Trailhead North
Tahoe East Shore Trail
Tahoe Rim Trail 
Trailhead for Stateline Fire Lookout
Truckee River Bike Trail
Lake Tahoe Golf Courses
Bijou Municipal Golf Course: 3464 Fairway Avenue, South Lake Tahoe, California. 
Incline Village Championship Golf Course: 955 Fairway Blvd., Incline Village, Nevada.
Incline Village Mountain Course: 690 Wilson Way, Incline Village, Nevada.
Edgewood Tahoe Golf Course: 180 Lake Parkway, Zephyr Cove, Nevada. 
Tahoe City Golf Course: 251 N. Lake Blvd, Tahoe City, California.
Tahoe Paradise Golf Course: 3021 US 50, South Lake Tahoe, California.
Ideal Lake Tahoe Beaches
Cave Rock-East Shore
Secret Cove-East Shore
Hidden Beach-North Shore
Kings Beach-North Shore
Sand Harbor Beach-North Shore
Baldwin Beach-South Shore
Conelly Beach-South Shore
Kiva Beach-South Shore
Pope Beach-South Shore
Vickingsholm-South Shore
Zephyr Cove-South Shore
Commons Beach-West Shore
Lester Beach-West Shore
Sugar Pine Point Beach-West Shore
---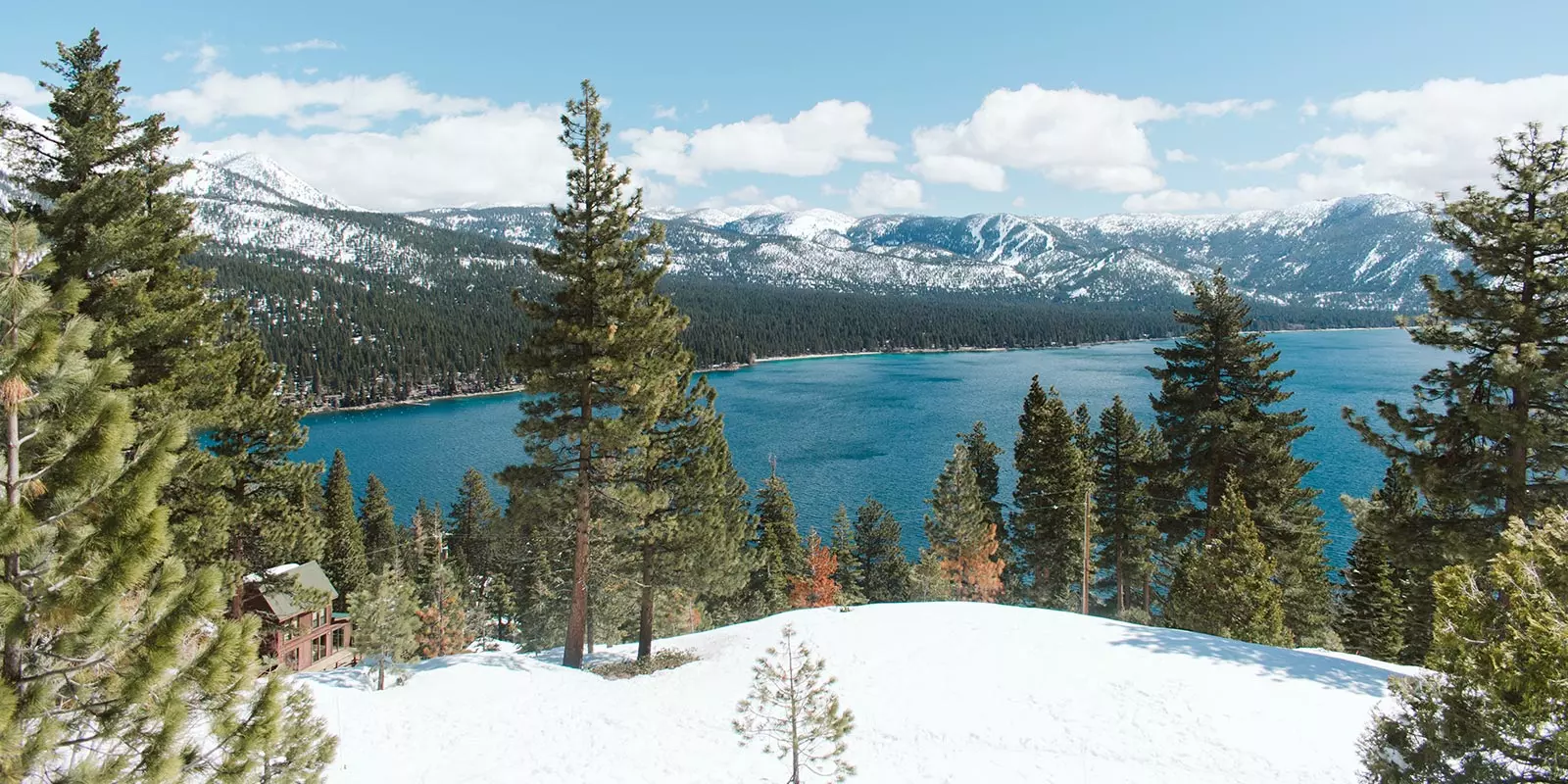 Things to Do in Lake Tahoe in the Winter
How Do You Spend a Day at Lake Tahoe? Take your pick from the exciting winter experiences offered by Lake Tahoe's crystal-clear, arctic-blue water, snowy-topped mountains, and icicle-draped pine trees in the winter. Take a gander at all of the winter happenings at Lake Tahoe. Vacationers can make an itinerary with planned activities or just wing it spontaneously if reservations are not required.
Sleigh Riding Lake Tahoe 
Borges Sleigh & Carriage Rides operates locations throughout the Lake Tahoe region.
Winter Hang Gliding 
Go on a powered hang-gliding adventure in heated flight suit with footwear included that includes a lesson and opportunity to take over the controls. Winter hang gliding requires a pilot to increase his or her flying weight by about 10 to 12-pounds. Hands and feet must be protected because frost-nipped hands and feet are not safe for maneuvering and landing without pain. 
Lake Tahoe Paragliding
Hang Gliding Tahoe
Slide Mountain Hang Glider Landing
Ride Fat Bikes
Take a fat bike adventure tour with Tahoe Jack's: Fat bike riding is Tahoe's latest bicycling sport. Fat bikes allow you to actually ride a bicycle on snow. At Lake Tahoe, you can take a fat bike to places not accessible by other means of transportation. Fat bikes sport big, fat tires that allow bicyclists to float on snow-covered terrain. 
Shopping Lake Tahoe in Winter Is the Best
What if you are only along for the ride with someone who cannot leave the winter wonderland activities alone at Lake Tahoe…all day…all night…because you love them? And you are bored to tears?…And the only thing to do is drink hot chocolate or hot toddies? The solution is shopping! Lake Tahoe offers a plethora of shopping options with unique boutiques…
Bijou Center
Boatworks Shopping Mall
Cobblestone Center
Heavenly Village 
Lighthouse Center
The Crossing at Tahoe Valley
Trading Post Shopping Center
Truckee's Bespoke Atelier
Village Shopping Center
Lake Tahoe Sledding, Snowmobiling, and Tubing 
These three winter activities overlap at Lake Tahoe parks. Some of the following parks combine tubing and sledding, sledding and snowmobiling, snowmobiling and tubing, or all of them, or two of them. 
Adventure Lake Tahoe
Adventure Mountain
Blizzard Mountain
Full Throttle Tahoe
Hansen's Resort
Heavenly Adventure Peak
Hope Valley Sno-Park
Lake Tahoe Adventures
Lake Tahoe Snowmobile Tours, Inc.
North Tahoe Winter Adventures-rentals
Northstar California
Snowmobile Rentals
Soda Springs' Tube Town
Tahoe Donner
Tahoe Family Adventures
Tahoe Meadows
Tahoe Snowmobile Tubing Hill
Tahoe Snowmobiles
Tahoe Snowmobiles and Tubing hill
Tube Tahoe
Zephyr Cove Snowmobiling Tours
Snowshoeing Lake Tahoe
Snowshoeing in ancient days was an essential form of travel in the snowy lands of the northern hemisphere. Today, snowshoeing is all about exploration, exhilaration, and fun. Plus, snowshoeing has proved to be an effective method of low-impact aerobic exercise today. 
Alpine Meadows 
Camp Richardson.
Carson Pass 
Donner Pass 
Kirkwood 
Mt. Rose 
Northstar Resort 
Sierra-at-Tahoe 
Spooner Lake 
Lake Tahoe Ski Resorts
Check to see if ski resorts offer gondola rides on and off season too for photo ops. 
Alpine Skis: 1133 Ski Run Boulevard, South Lake Tahoe, California. 
Granlibakken Ski & Sled Hill: 725 Granilibakken Road, Tahoe City, California. 
Heavenly Mountain Resort: California Lodge: 2860 Saddle Road, South Lake Tahoe, California. 
Lake Tahoe Ski Resorts: South Lake Tahoe, California. 
Nordic Ski Trails at the Lake Tahoe Community College: South Lake Tahoe, California.
Northstar California Resort: 5001 Northstar Drive, Truckee, California. 
Palisades Tahoe: 1960 Olympic Valley Road, Olympic California. 
Tahoe Cross-Country: 925 Country Club Drive, Tahoe City, California.
---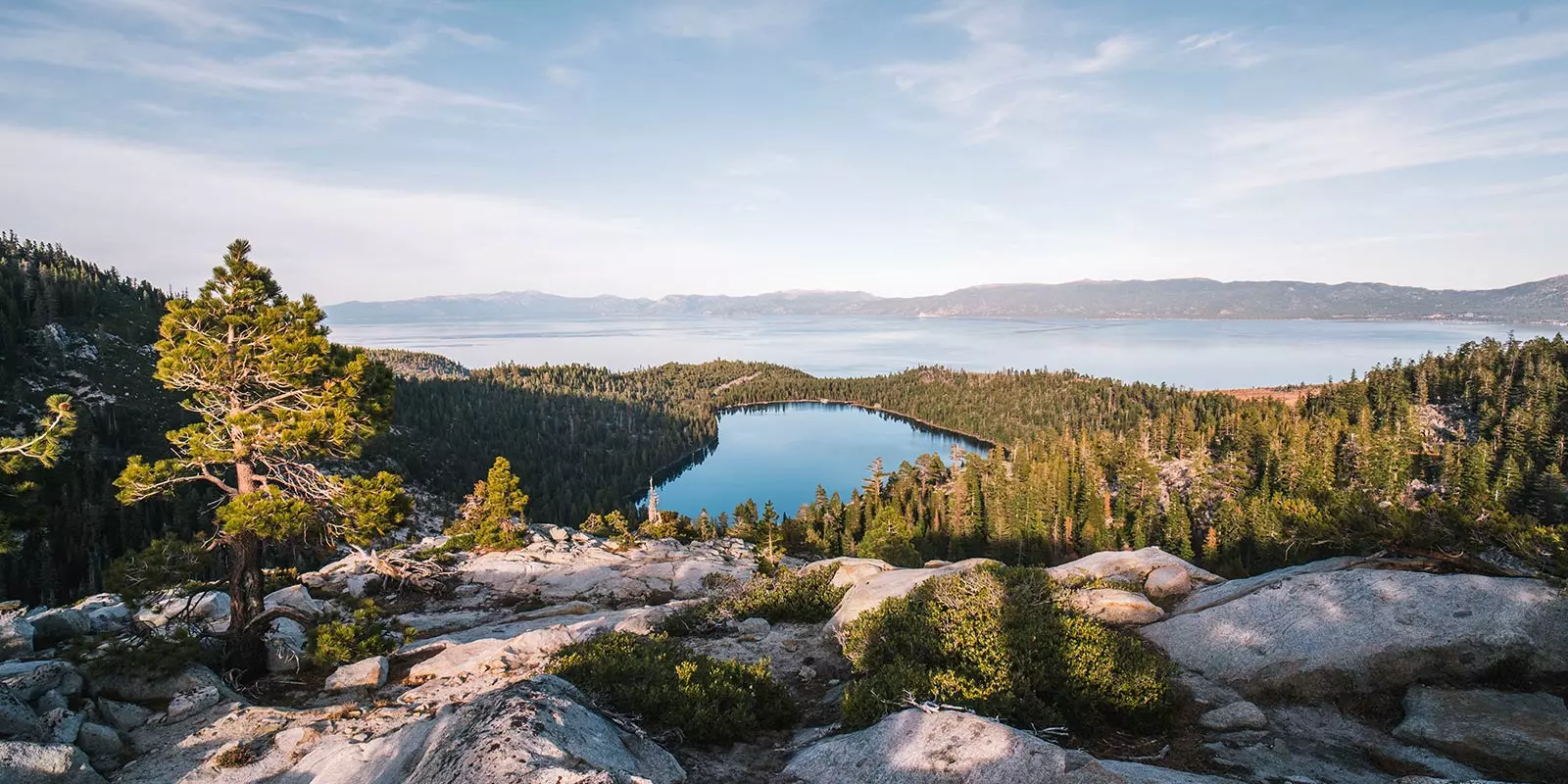 Unique Things to Do in Lake Tahoe
Dog Sledding Lake Tahoe
Take a dog sledding tour through the woods and over the snow pulled by nature's best dogs ever who love their jobs. Mush dogs can only pull so much weight, so there are limits to how many guests can ride in a dog sled, depending on their guest's total weight. The Lake Tahoe dog sledding experts will tell you exactly how much weight their mush dogs can pull. You can choose from a daytime, sunset time, or moonlight time in the magical winter wonderland that is Lake Tahoe from December to March for mush dog sled  rides. 
Wilderness Adventure  
Kirkwood Mountain Running Creek Dog Sled Rides  
Husky Express Dog Sled Rides
Horseback Riding 
Zephyr Cove Stable
Borges Sleigh & Carriage Rides
Alpine Meadows Stables
Heavenly Hoofprints
Piping Rock Equestrian Center
Tahoe Rim Trail: Kingsbury North Trailhead-Bring your own horses
Tahoe Donner Equestrian Center
St. Francis of the Mountains
St. Francis of the Mountains is also called Fallen Leaf Chapel. It is a historical church built in 1923 and holds historical significance in the Lake Tahoe region. Its architecture is undeniably of expert carpentry built with hand-hewed labor and lovingly created without modern technology by skilled craftsmen. No matter what faith you belong to, or if you have no faith, this architectural icon of the Lake Tahoe region will grip your soul. 
St. Francis is the Patron Saint of the environment and animals because St. Francis loved all creatures and allegedly preached to the birds. Today, St. Francis of the Mountains is still an operating church and a popular wedding venue. 280 Fallen Leaf Road, South Lake Tahoe, California.
Things to Do in Lake Tahoe with Kids
With all the attractions, activities, winter and summer sports listed above, almost everything you can find to do at Lake Tahoe is family friendly excepting gambling and nightlife entertainment. Every business at Lake Tahoe that caters to visitors will be happy to direct you to the best kid-friendly attractions and activities in the region. 
What Is There to Do in Lake Tahoe Besides Gamble?
Lake Tahoe is a year-round playground with world class ski resorts in winter, and tourists and locals celebrate its southern shores for its pristine, sandy beaches in warmer months. The towns on the shores of Lake Tahoe provide tons of attractions, dining, family fun, nightlife entertainment, and shopping, plus off-of-the-lake outdoor super adventures. 
What Is the Best Month to Go to Lake Tahoe?
The shores of Lake Tahoe support quite a few towns and communities, with Incline Village, Nevada, and South Lake Tahoe, California, as its largest towns. Carson City, and Reno, Nevada, are a stone's throw away from Lake Tahoe. The entirety of Lake Tahoe's population swells up with approximately 15 million tourists every year. 
According to 15 million people who visit Lake Tahoe yearly, the best month to go to Lake Tahoe is any month, depending on what adventure you are seeking. The least crowded time to visit Lake Tahoe is after Labor Day in September for warm weather activities. High seasons at Lake Tahoe are June to August and December to March.