I get asked each year, "what do you want for Christmas or Father's Day?" I know why my family asks, because I take being an angler very seriously and they always want to pick the perfect gift for fishermen that I will use.
The top 3 fishing gift ideas for this father and dad is a great pair of strong stainless steel fishing pliers, easy-to-use folding landing net with fish-safe netting, and a cordless electric multi-blade fillet knife. 
Fishing Pliers | Leatherman Signal Topo Multi-Tool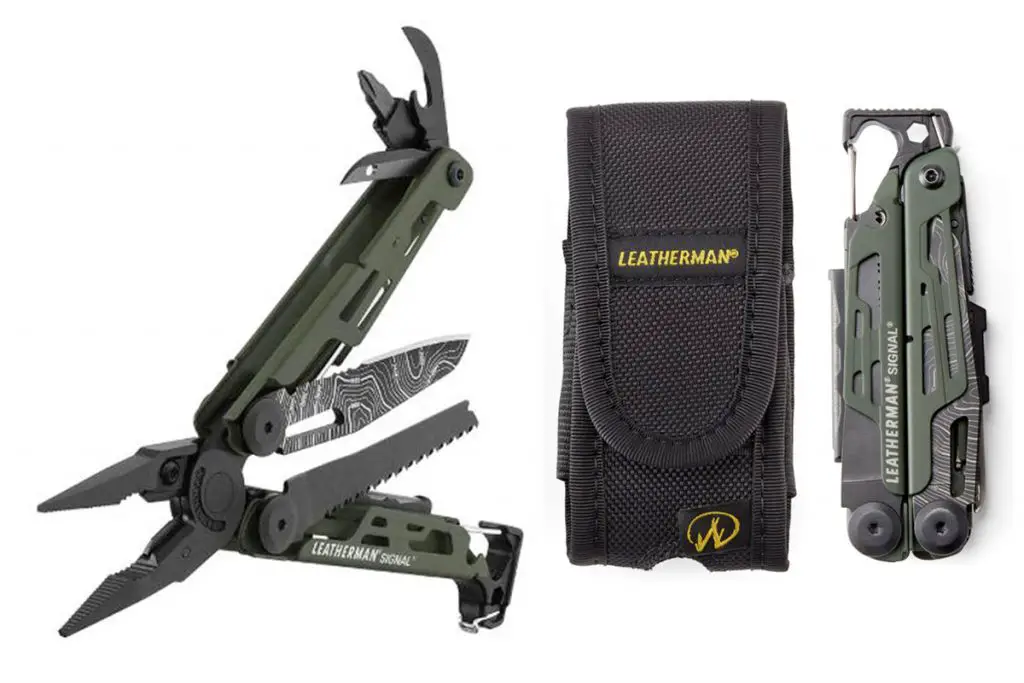 OVERVIEW: This is not the typical fishing pliers and that's why I like them. I use these on every trip and cannot live without them. Technical Features:
Stainless-steel blade, needle-nose/regular pliers, wire cutters, screwdrivers, saw, awl
Can/bottle opener, carabiner, safety whistle, fire-starting ferro rod
Stainless-steel construction provides years of dependable service; each implement is heat-treated to optimal hardness for its function
Included diamond-shaped sharpener allows you to maintain the knife's straight and serrated blade
Blade features one-of-a-kind topographical map laser markings
WHAT I LIKE MOST: I use it mostly for the wire cutters as a line cutter that also cuts leaders, braided and monofilament fishing lines, but a close second priority is using the pliers to remove hooks. The clip is so cool because it allows me to hang these pliers from my pocket for easy grasp. The clip is loose enough to slip it on and off but tight enough to stay put.
I have also learned the hard way how important it is to own fishing pliers that are made of stainless steel. I've had aluminum and cheap steel fishing pliers, and they always end up bending or rusting too quickly. I like that Leatherman tools are made to last a really long time, since I like to fish both salt and freshwater, along with some brackish lakes such as Lake Texoma.
All the other features are also very handy to have nearby, not to mention it just looks cool.
---
Folding Fish Landing Net | StowMaster SS67LG
Space is always a concern on any boat, and even tighter while fishing. That's why I LOVE my collapsable fish landing net by StowMaster. I've owned every type of landing net on the market and this one has it all.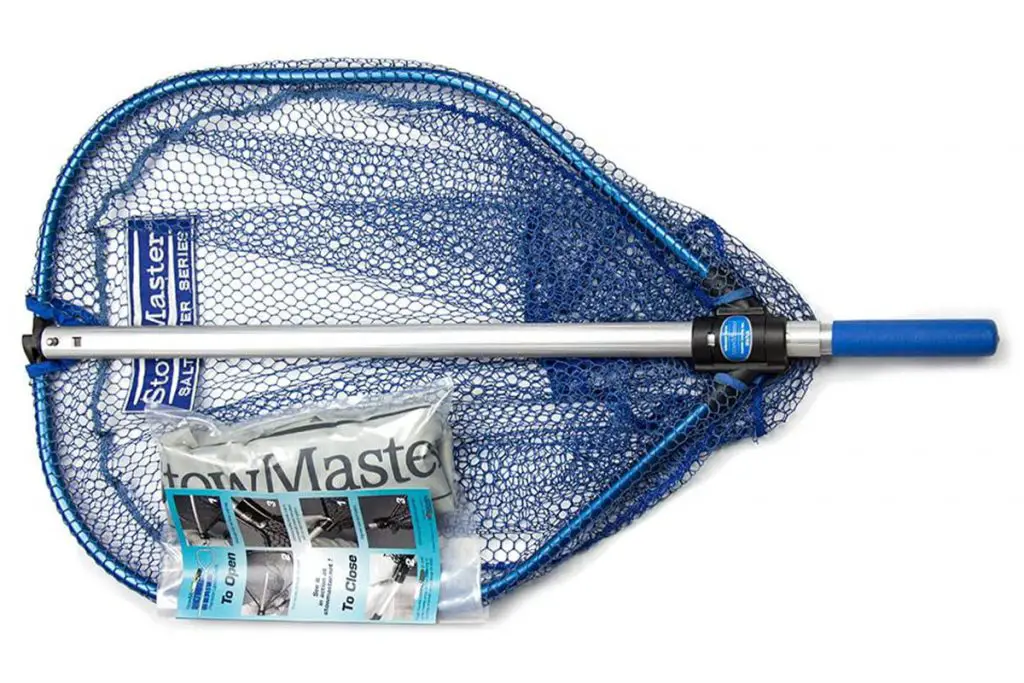 OVERVIEW: This net never leaves my boat and even fits right inside an empty rod holder. Here are the technical specifications too.
17 x 23 inch hoop, 67 inch length.
Patented folding-hoop design allows StowMaster nets to fold up half the size of traditional nets
Includes free stow case for easy out access and non-tangle storage. Mounts easily utilizing non-evasive Velcro mounting tabs included
Hoop and handle manufactured from aircraft grade extruded aluminum for extra strength and durability.
Backed by lifetime against Breakage.
Made in USA
Now featuring our Guardian netting with fish-friendly knot-free design.
Net bag is 17″ deep with a specially coated "hooks-less" Netting.
WHAT I LIKE MOST: I really like the size of this nets basket and webbing is very fish friendly It feels great and seems to be better on the fish I don't want to keep for dinner. The price is also is great. It's been plenty strong for all the fish I've used it on and I've caught so pretty big Striper.
The stop tab. This may sound obvious but its not. I've tested many collapsible or folding nets at local sporting goods stores and the nets simply flew apart when trying to extend. This won't happen with this net. The StowMaster solves this with a simple stop tab! You can open and extend this net with one hand too. I found this really useful feature when you have multiple fish being reeled in at once, or for those anglers who like to go solo.
its overall strength is great (for landing the big ones), has a good length when fully extended. The grip is nice and the overall a quality of the StowMaster is excellent.
The opening is the perfect size for any type of fish I could catch on the lake. Once folded up and rinsed off it comes with a case to stow and protect it while it waits for your next fishing trip. Did I mention it looks cool too?
---
Filet Knife | Bubba Lithium Ion Cordless Electric Fillet Knife
OVERVIEW: When I've had a successful day fishing I always keep a few good sized fish for dinner. My excitement doesn't end at the lake when I get this fish cleaning machine out. I've owned many filet knives and they are extremely hard to keep sharp.
Ergonomically designed to fit perfectly in your hand.
Iconic non-slip grip handle
Lithium-ion battery has the longest run time of any electric fillet knife on the market
Four different blade styles — 7″; E-FLEX, 9″; E-FLEX, 9″; E-STIFF, and 12″; E-STIFF
Legendary tapered flex and stiff fillet knives
Constructed out of high carbon stainless steel and coated with titanium nitride making them extremely corrosion resistant
Safety lock and trigger guard for ultimate security
Premium EVA molded carrying case, which allows you to break apart the storage units for easy cleaning.
Second replacement battery, charging cord, and all batteries include a battery life indicator.
WHAT I LIKE MOST: The Bubba blade electric knife is simply makes cleaning fish fun again.
At first I thought I would never use more than one blade but Bubba Blades really understands it takes different fillet blades to clean different sized fish. I could never use the thin blade for large Striped Bass but it's perfect for Crappie. On smaller fish, having a small, thin and flexible blade combined with electric power is the best of both worlds between working fast and keeping the most meat.
The middle blade is the size I use most. Since I enjoy Striper fishing in Texas most its the right size for cleaning the keepers.
I currently own the corded version of this Fillet knife and cannot wait to get one of these cordless knives as a gift (hint, hint). If this knife works as good as the corded one, you absolutely need to own this today. Haven't used the thin blade yet, but the middle blade works great for every fish I've cleaned.