Did you finally take the plunge and buy that boat you've always wanted? Would you like to brush up on the rules of the road on the water? Has it been a few years since you took your boater's education course? Lakehub.com has put together a comprehensive look at how boating etiquette transfers into safety precautions and can help to prevent unnecessary boating accidents. 
What Is Proper Boat Etiquette?
Boat etiquette begins with a boater education course for the basics. Boat etiquette covers a broad range of behaviors. Many negative boating behaviors are not only rude, they are dangerous. The following information will enlighten you about what and what not to do on a boat and give you a detailed description of boating etiquette and safety precautions. 
Boat etiquette includes proper behavior on open water, when performing water sports, inside marinas, on the boat ramps/launches, observing boat traffic rules while traveling, speed limits, while  fueling, anchoring and mooring, shoreline littering, sound levels of music, and wake limits. 
Boating looks like a blast, but it takes knowledge and experience to learn all the rules of water as a boat operator. Etiquette is defined as "the customary code of polite behavior among members of a particular profession or group." Boating behavior is no different.
---
Boating Right of Way Diagrams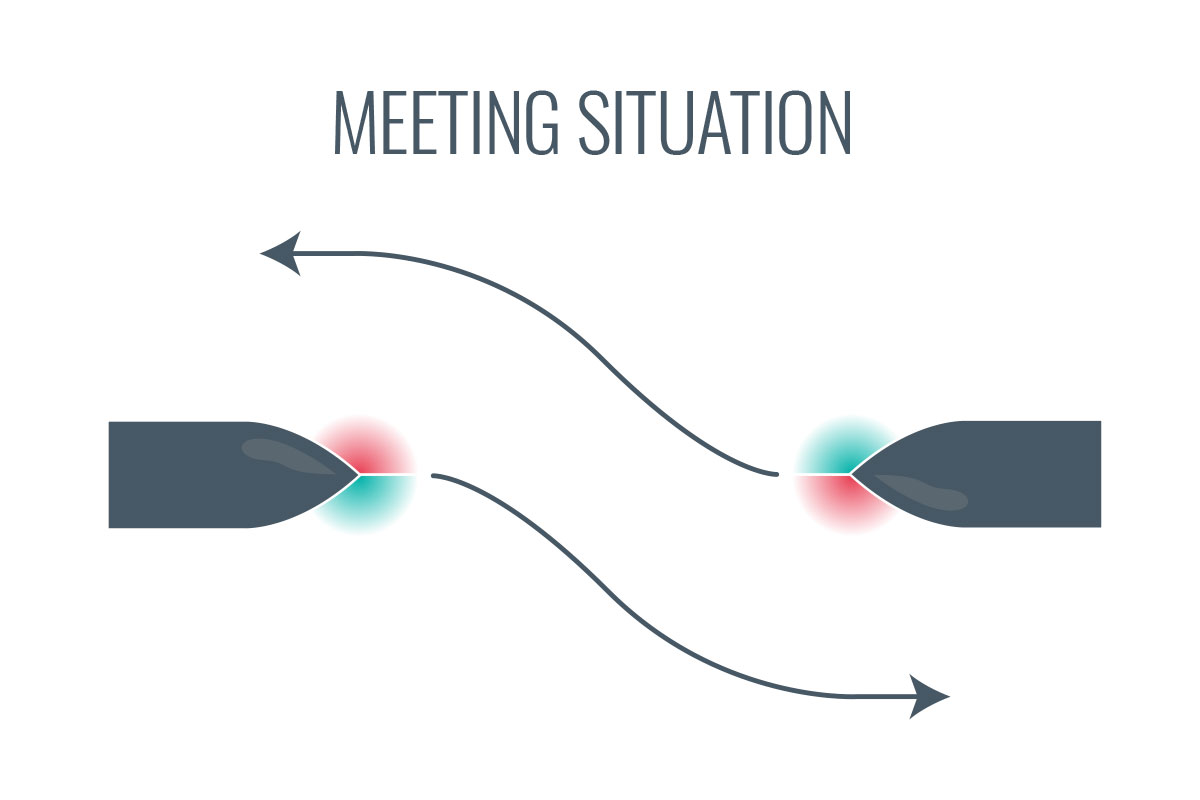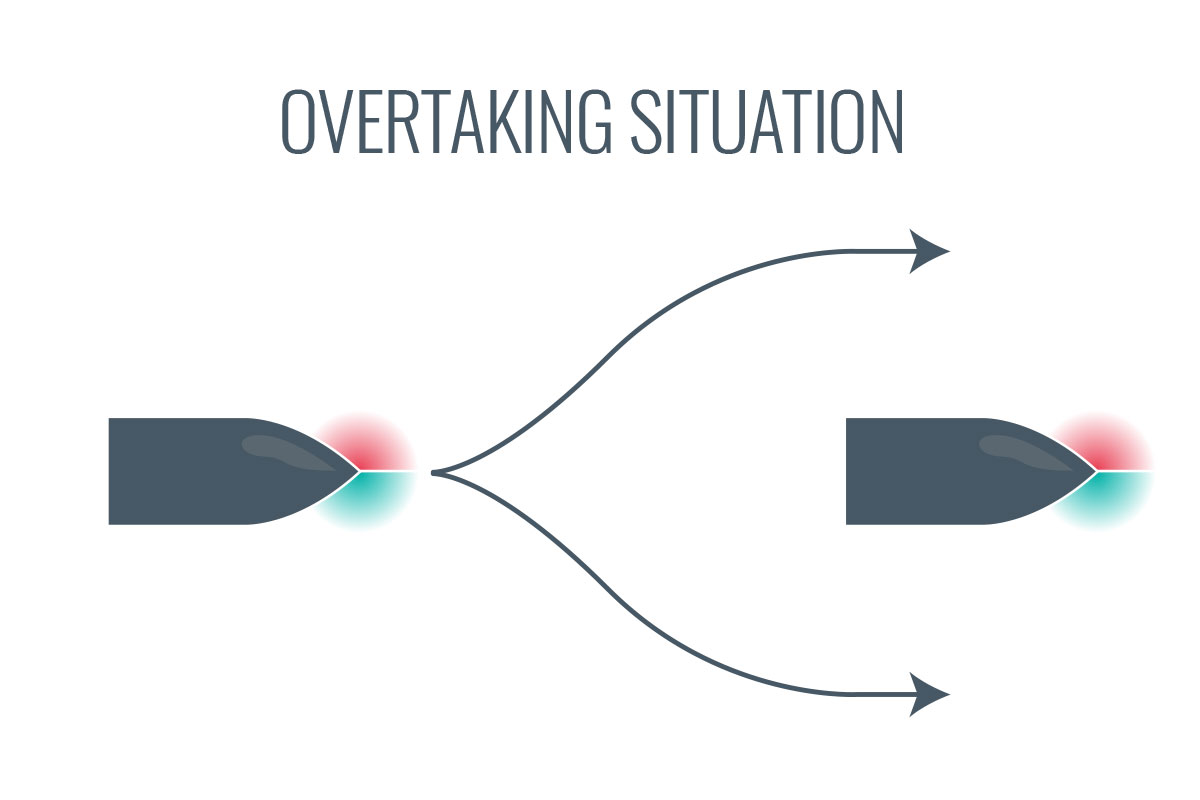 Boat operators must understand boating right of ways. There are three maneuvering positions on the water when you meet another boat. The three positions are the crossing rule, the meeting situation, and the overtaking situation. 
There are also rules for night boating. If you see a red light crossing from right-to-left in front of you, you need to change your course. If you see a green light crossing from left-to-right, you are the stand-on vessel, and should maintain course and speed. The following diagrams show these positions. 
---
Unwritten Rules of Boating (And Written Rules)
What Does Boat Ramp Etiquette Mean?
Boating etiquette begins when you enter the water. Time is of the essence. 
Prepare your boat and equipment before getting into position to launch. Everyone wants to get their boat in the water as quickly as possible. When boaters spend time preparing and pre-tripping their boat on the ramp, it is disrespectful and extremely rude. 
What Is the Danger with Wakes?
The quickest way to make people angry is to throw a big wake towards another boat, swimmer, angler, or a shoreline owner. This behavior is extremely disrespectful to other's experience on the water or shore. 
A boat's wake can potentially damage docks, piers, and other boats. Large waves from boat wakes create dangerous navigation hazards for other vessels, skiers and personal watercrafts. Large waves damage wildlife habitats and shoreline property.
What Is Wrong With Loud Music on a Boat?
Sound is amplified over the water. Boat operators should keep their music at a decent level. Not everyone has your musical taste. But much more importantly, you need to listen to the sounds of your boat. 
It pays to be acutely aware of noises on your boat, especially if it is coming from the engine. Do not wear headphones while you are boating. There are all kinds of sounds that boat operators need to listen for like smoke alarms, water and bilge pumps, changes in the exhaust system, etc. 
Why Not  Toss Trash Out of Your Boat or Leave It on the Shore?
Littering and trash accumulation is an enormous problem on all lakes and water bodies. There are always people who have no care about the aesthetics or damage to wildlife habitats. Shorelines all over the U.S. are covered with trash thrown out of boats that float to the beaches. 
Trashing lakes cost  local officials, businesses, residents, and visitors millions of dollars a year collectively to clean up the litter left by boaters. Some trash is dangerous to wildlife, and even cigarette butts pose a threat to fish. Littering on the water is highly offensive. 
Why Obey Speed Limits and No Wake Restrictions?
Many water bodies have areas with no wake zones and speed limits for various reasons, but all the reasons have to do with safety precautions. 
No wake zones and speed limits are in place to minimize the impact of large wakes when they reach shore, so they do not disturb wildlife habitat, cause unnecessary erosion to shorelines, or to protect a swimming beach. You are responsible for any damage you cause to other people's property.
What Are the Rules of the Road on the Water?
Just like traffic signals, traffic signs, and highway signs protect and direct vehicle drivers of all sizes, so do navigational aids on the water. It is very important for boat operators to pay close attention to these signs. We explain these rules and navigational aids below this section. 
The rules of the road tell you how you should operate your vessel near other vessels. If you are on a lake with marked channels, green and red buoys show you the channel to travel in. Other buoys and signs tell you if there are underwater hazards and which way to go. 
Why Do You Fuel Up and Go?
As with boat ramp etiquette, respect other boater's time at the fuel dock.
At the fuel dock, get fuel, pay your bill, and move out of the way. If you need to buy additional supplies, relocate your boat. Run your blower before starting your engine.
What Is Important About Anchoring and Mooring?
Enter any anchorage or mooring area at a slow speed. It is extremely rude to speed through these areas where collisions are highly likely to happen. 
Don't create a wake that will disrupt other anchored boats. The first boat sets the protocol. Copy how they tie off and how much line they use, and how much distance is allowed between the other boats. The busier the anchorage area and boat, the more space you should give your boat.
How Should You Prepare Yourself and Your Guests? 
You are the Captain of your vessel and responsible for everything and everyone on it, along with any damage you cause to other people's property with your boat. 
Know the rules of the road, all safety precautions, what to do in emergencies, and the laws of the state and water body you are boating on. Make this information clear to your guests. Set a good example by wearing a life jacket and have a life jacket for each of your guests. 
Be Polite-Wave at Other Boats When Passing
It is customary to wave at passing boats. Be polite, have fun, and embrace the boating community. 
The purpose of the rules of the road is to help you avoid an accident, not to establish responsibility or liability if you get into an accident. If you get into an accident, you can be held liable, even if you followed the rules.
Boating Right of Way
Your primary obligation is to operate your vessel in a safe manner. Under the rules, there is no "right-of-way" like there is on a street. For most situations, Boats are called one of the following.
Give-Way Vessel – If you are the Give-Way vessel, you must act as if the "stand-on" vessel has the right to keep going the way it is going. It is your responsibility to signal your intentions to the stand-on vessel, and it is your responsibility to maneuver your boat around the other in a safe manner. Also known as a "burdened" vessel, as it has the burden of.
Stand-On Vessel – If you are the Stand-On vessel, it is your responsibility to acknowledge the intended actions of the give-way vessel. You must also maintain your current course and speed until the give-way vessel passes, or you enter a dangerous situation.
What Buoys & Markers Mean
Lateral markers indicate the sides of channels. Safe passage can be found between pairs of green and red buoys. Green colors and lights should be on your starboard or right side when traveling toward open waters. Red colors and lights should be on your starboard or right side when traveling toward the port. Remember: "Red-Right-Returning". 
Regulatory markers are white buoys with orange messages. They warn of water hazards, give directions, and mark speed limits and wake zones. Mooring buoys are white with a blue horizontal band and can be anchored in public waters. It is unlawful to moor, anchor, or attach any boat to other buoys, beacons, light markers, staks, flags, or other markers used as navigational aids.
Read more in our article on buoy colors.
Other Rules of the Road
You must always operate at a safe, controlled speed for the situation in which you are boating, and any legally mandated speed requirements that there may be, such as a slow/no wake zone.
Take care to avoid careless, reckless, or negligent boat operations, such as operating too closely to other vessels, boating under the influence, or operating at an unsafe speed for the given conditions.
Steer clear of naval vessels, and other restricted facilities such as bridges, power plants, and dams. New Homeland security measures require it, as does your safety.
---
What Should You Not Do on a Boat?
There are so many factors that lead to boating accidents. Lack of boater education is a big element in boating accidents. The U.S. Coast Guard reports that 70% of boating accidents are caused by boat operators who have not taken a boating education course.
You should never drink alcohol or take drugs and operate a boat. The number one factor leading to boating accidents is Boating While Intoxicated (BWI). You should not operate a boat until you have taken a boater education course. 
There are many other things you should not do on a boat. This includes behaviors, whether you are the boat operator or a passenger. Everything you do while on a boat in any water body is important to the safety of everyone on board. 
In 2019, drownings were recorded as the cause of death in 79% of all boating fatalities. The USCG reports that 86% of these drowning victims were not wearing a life jacket. Approximately one in five people who die from drowning are children ages 14 and younger. This data reinforces the USCG's message that boaters should always wear life jackets when out on the water.
---
U.S. Coast Guard: The Top Ten Causes of Boating Accidents
1. Operator Inattention
There are many possible distractions onboard a boat. Operators of boats are expected to stay alert and pay close attention to the weather, the boat, and their passengers. The unpredictability of the wind, weather, and water requires that operators watch out for early warning signs of danger. Statistics show that operator inattention and distraction is the leading cause of boating accidents.
2. Improper Lookout
Improper lookout was another factor contributing to accidents. If possible, a lookout on the boat should be designated to watch out for threats or hazards that the boat operator might miss. Failure to do so can have catastrophic consequences.
3. Operator Inexperience
Operator inexperience was the third leading cause of accidents. Boat operators need to understand the basics of boating, such as admiralty law, navigation rules, and how to handle emergency situations.
4. Excessive Speed
Boating at a safe speed ensures the operator and boat passengers have time to react to dangers. Just like roadways, most waterways have speed limits, and driving too fast can result in collisions with boats, other hazards, or rollovers.
5. Alcohol Use
Alcohol use can be a factor in boat accidents resulting in death or serious injury. Although alcohol use resulted in the fifth highest number of accidents, they were the deadliest type of accident. In 2014, the same number of people died from alcohol related boating accidents as from the top three other causes combined. Most states have the same alcohol limits for boat operators as they do for automobile drivers. 
6. Machinery Failure
Proper maintenance of the boat is the responsibility of the owner. Routine checks and pre-trips should be made by the operator to ensure the boat is in good condition. Failures of the steering mechanism, motor, or the hull of the boat can be very problematic.
7. Navigational Rules Violations
Violations of rules governing the navigation of boats are often among the top causes of accidents. Boaters may know how to operate their craft, but may not be certain of rules of the waterway, which can lead to collisions with other boats or running their boat aground.
8. Hazardous Waters
Hazardous waters arise when sudden changes in the current or rapid tidal flows make it difficult to operate boats. While some hazardous waters are unpredictable, there are some rough areas that attract operators of smaller vessels, without regard to the dangers of the waters. Operators should be mindful that dangerous conditions could come up at any time.
9. Weather
Some people fail to check weather conditions when the sky appears clear and sunny because they assume that fair weather will continue. Some choose to just ignore the weather conditions. Boat operators should always keep an eye on the weather conditions when heading in or out for trips.
10. Force of Waves or Wake
A wake follows the track of a moving boat. This is the disturbance of the water resulting from the passage of the boat's hull. The force of the wake/waves can cause accidents, injuries, and even death.