Buoys are essential because they are the warning signs and stop light signals of the water. They communicate messages to captains and boat operators from a distance. Imagine if the highways and roads had no signs, signals, or traffic lights. Buoys are signs that are universal and recognized globally. 
Buoys are extremely important and have different colors, letters, and shapes. These signs give different warnings and various kinds of information. It is crucial for boat operators to understand the meaning of colors on a buoy. Buoys colors are typically green, red, or a combination of the two, or blue, orange, red, white, yellow, and black. 
What Are Lateral and Non-Lateral Buoys?
A lateral buoy, lateral post, or lateral mark, as defined by the International Association of Marine Aids to Navigation and Lighthouse Authorities, is a "sea mark used in maritime pilotage to indicate the edge of a channel".
The Non-Lateral Marking System comprises regulatory and informational markers in various shapes. Also known as the Uniform State Waterway Marking System (USWMS). You will see these markers on U.S. rivers and inland waterways.
The two buoy systems are similar and serve the same purposes. 
---
What Do Red and Green Buoys Mean?
Red and green buoys lead boat operators through lanes called channels on waterways. Main channel buoys are red, green, or both. They are called channel markers. There are primary channel markers and preferred channel markers. They are both lateral and non-lateral.
On a waterway—lake, ocean, or river—primary/main channel markers are green buoys with odd numbers on the port side of the channel, and red buoys with even numbers are on the starboard side. Preferred channel or junction buoys are painted with red and green horizontal bands and can have flashing lights.
A solid green buoy tells boaters to pass to the right, and a solid red buoy advises boaters to pass to the left. Buoy numbers get bigger when heading upstream or getting closer to a port or harbor. These are primary channel markers. You can remember which is the port and starboard side of a boat by knowing that p comes before s in the alphabet. Port Left—Starboard Right. 
Preferred channel markers are a little different and painted with green and red bands. Preferred channel markers with a green band on top and a red band on bottom tell boaters to pass right, and conversely, a red band on top with a green band on bottom means boaters should pass left. The top band may have a letter in it. 
Preferred channel markers may have lights. They can be fixed, steady lights, fast flashing lights (flashing 2), slow flashing lights (flashing), occulting flashing lights, and ISO lights. When the letter is inside a square on the green top band or in a triangle on the red top band, the buoy is a day mark. 
An occulting light flashes where the total duration of light in each period is clearly longer than the total duration of darkness and in which the intervals of darkness (occultations) are all of equal duration. ISO stands for isophase. ISO lights flash with equal periods of light and darkness.
A primary channel marker indicates the lane or the way to go on water to avoid different types of hazards. A preferred channel marker indicates a fork in navigable channels for vessels that may be restricted in maneuverability or draft.
---
What Colors Appear On A Mooring Buoy? 
A mooring buoy is a floating structure, which is used to moor vessels such as cruise ships, fishing boats, cargo ships, or private ships while in deep or shallow water. It depends on where you are what colors designate a mooring buoy In the U.S, they are white and blue.
In the U.S., mooring buoys are white with a blue band around its center or around the top of the buoy. They are classified as non-lateral by the USWMS.
Mooring buoys are moored to the bed of the waterway by using chains or ropes and known as mooring. Manufacturers design mooring buoys to be stable. A mooring buoy has no navigational significance. They may have ownership identification. Lighting on a mooring buoy is usually optional, but lighting may be required depending on the location in the waterway.
---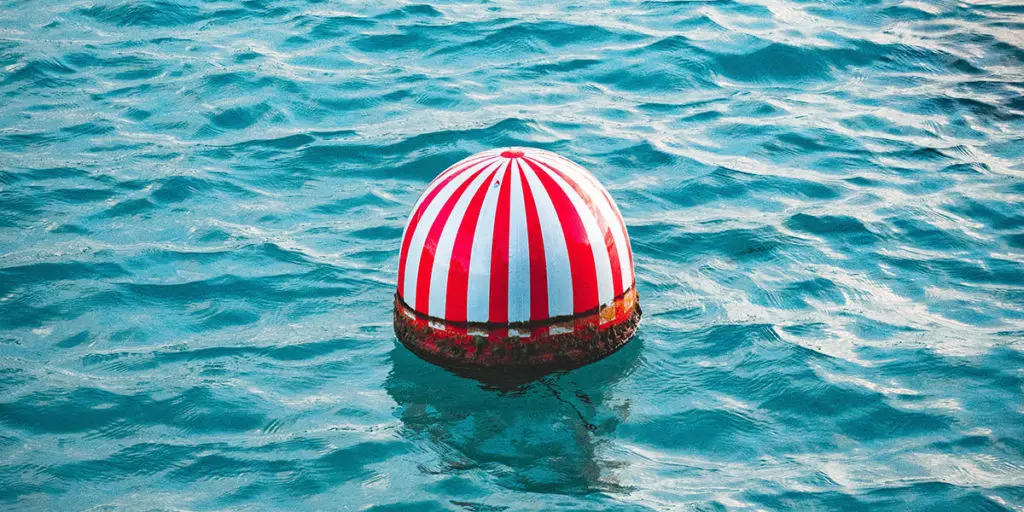 What Color Are Safe Water Markers?
A buoy with red and white vertical stripes indicate safe water. 
Lateral Fairway buoys are in harbors and are spheres, pillars, or spars with red and white vertical stripes. They indicate unobstructed water on all sides. They mark mid-channels or fairways and may be passed on either side. But, if a fairway buoy is marking the middle of a channel, keep it on your port side.
---
What Do Red and Yellow Buoys Mean?
Red buoys indicate a right-hand turn and are on the port side. Yellow buoys are used during a race. Yellow buoys can also indicate fishing zones, traffic separations, anchorage areas, and international boundaries.
In U.S. waters, a yellow buoy indicates a left-hand turn. Boaters need to stay within the channel as they approach the yellow buoy. They need to turn left to stay on course. When boating on intercoastal waterways, yellow buoys are used to designate a channel. When someone sees a yellow square, this is a sign that they need to keep the buoy to the port side. 
Navigational markers also may be black and/or white, red and/or white, numbered or lettered, which indicate locally placed or outdated navigational systems.
---
What Does a Black and White Striped Marker Mean?
Inland waters obstruction markers are white with black stripes. They indicate a danger of some kind.
Obstruction markers are white with vertical black stripes. A non-lateral marker with black and white stripes indicates an obstruction to navigation. Underwater hazards are present. You should not pass between these buoys and the nearest shore.
---
What Are White Buoys With Orange Geometric Signs?
White buoys with orange geometric shapes and bold black letters or numbers are regulatory buoys that provide information, including directions, dangers, and prohibited areas. 
Regulatory buoys with an orange diamond and cross inside indicate a dam, rapids, swim area, rock, wreck, shoal, etc. An orange circle is a control buoy and indicates slow, no wake, anchoring, etc. An orange square indicates directions, distances, locations, etc. The message inside the shape alerts what the boater needs to know. 
---
History of Buoys
European Buoy and Navigational Aid History
When it comes to maritime history, historians studied lighthouse history and not buoys because there are more recorded accounts of lighthouses than buoys. This history comes from the U.S. Department of Defense. 
While some types of floating markers may have existed before the 13th century, the La Compasso de Navigare, a mariner's handbook detailing sea roads and approaches around the Iberian Peninsula, reported on the first recorded buoy in the year 1295. Located in the Guadalquivir River, this buoy aided mariners approaching Sevilla, Spain.
A few decades later, historical literature detailing the use of buoys in the Zuider Zee, a former bay of the North Sea, and also the English Southern Sea, routing ships to Amsterdam and other ports that emerged. We don't know, but early buoys may have been pieces or rafts of wood secured to a hefty stone.
The first buoys in Northern European waters, recorded 30 years later, were in the Vlie River, which empties into the Zuider Zee. They guided ships to the commercial centers of Amsterdam and Kampen. Individual port authorities maintained the buoys. These buoys were mostly hollow wooden casks bound with iron bands. They moored the buoys with chains and large stones. 
Merchants and mariners paid "light fees" for buoy maintenance. It was 200 years before governments took over the maintenance of buoys and maritime aids. The Guild of Shipmen and Mariners petitioned and received a charter from King Henry VIII of England to maintain buoys and aids in 1514. 
The guild believed inexperienced individuals were endangering English shipping. The guild was also concerned about the "dangers of allowing foreigners to learn the secrets of the King's streams". The result of this charter induced the creation of Trinity House. By 1584, Queen Elizabeth I granted the Trinity House the right to establish buoys and beacons. 
American Buoy and Navigational Aid History
The newly established English colonies in North America could not survive without maritime commerce. England and the colonies quickly learned that it was imperative to maintain safe sea lanes. The colony's first navigational aids were lighthouses. Only two accounts of how the colonies maintained buoys exist. 
Only the recordings of the Delaware River cask buoys in 1767 and the spar buoys in Boston Harbor in 1780 survived. After independence from Britain, the U.S. government's First Congress quickly passed an act for the establishment and support of light-houses, beacons, buoys, and public piers in 1789. The Department of Treasury maintained navigational aids.
Specifically, the Fifth Auditor of the Treasury, Stephen Pleasanton, was responsible. Pleasanton raised funds for the maintenance of aids by levying light fees on ships entering U.S. ports. In 1801, Congress began funding navigational aids. Spar buoys, made of long cedar or juniper poles, and cask buoys were the principal buoys used in U.S. coastal waters until the 1840s.
In 1848, the U.S. tried to standardize the navigational system, but colors, shapes, and sizes varied from port to port. Individual contractors designed the buoys for any given area or harbor without uniformity. Buoys remained small, and Congress complained bitterly. Pleasanton's preoccupation with financial matters led to an investigation by Congress, which led to the creation of the Lighthouse Board in 1852.
Under the Lighthouse Board, the buoyage system steadily improved using can- and nun-shaped riveted iron buoys with standardized sizes to maximize visibility. Over the years, the system evolved. The buoyage system is much more standardized today than ever before. However, there are outdated buoys belonging to days gone by that can confuse boaters. But most well-used waterways are using modern systems today.